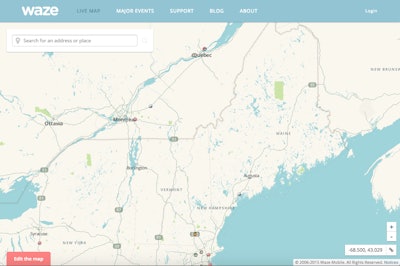 The transportation departments for Maine, New Hampshire and Vermont are partnering with the Waze crowdsourced naviation app to share traffic data with motorists travelling through the three states.
The partnership is part of the Waze Connected Citizens Program, which has been designed to "help users of the app (called "Wazers"), along with drivers and local communities collaborate together to improve the accuracy, timeliness and availability of roadway information."
"This is the first time we've had three states collectively join our Connected Citizens Program in unison, making our newest partnership truly unique," said Paige Fitzgerald, Connected Citizens Program Manager at Waze. "With the data received from each state, we're providing the most reliable, up-to-date information about what's happening on the roads to thousands of Waze users in this tri-state region."
The three states will send data to Waze from road sensors and other "traffic related events" and Waze will send traffic data it collects to the three states. "This two-way data share will return one of the most succinct, thorough overviews of current road conditions today," the company stated.
"In working with Waze, the Maine Department of Transportation (MaineDOT) is looking forward to more real-time situational awareness of road and driving conditions," MaineDOT Director of Maintenance and Operations Dale Doughty said. "This information is critical not only to the traveling public, but as the Waze community grows in the state, it will also be essential for emergency first responders to utilize this technology. Through sharing of information, we can all be emboldened to make better decisions and stay safe."
"This Tristate partnership and joint initiative with Waze will enhance our efforts to provide real-time traffic information for commuters, visitors, commercial drivers, and others as to what lies ahead on New Hampshire highways," New Hampshire Department of Transportation Assistant Commissioner William Cass said.
"This is an important step in our effort to create seamless traveler information across the region," Vermont Agency of Transportation Secretary Chris Cole said. "Combined with our other Tristate initiatives, Waze will help us deliver a consistent customer experience across borders throughout New England."