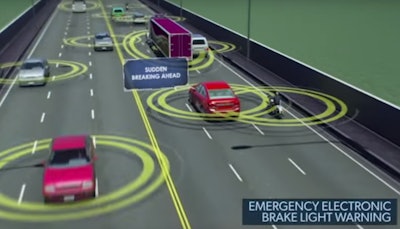 Panelists speaking on public works technology during the American Public Works Congress gave a nearly utopian vision of the future of transportation systems, extolling the potential of a future where vehicles, buses, traffic signals and infrastructure all seamlessly communicate.
Speaking at a general session of APWA's International Public Works Congress and Exposition were Kate Hartman, Connected Vehicle Pilots Programs manager for the U.S. Department of Transportation's ITS Joint Program Office, Tom Schaffnit, president of A2 Technology Management, Todd Henderson, subject matter expert for Cartegraph and Nate Hartman, representing drone manufacturer senseFly.
Ideally, these technologies will dramatically reduce traffic accidents and delays once implemented. And if the panelists are correct, the integration of this technology in the real world is closer than we may think,
"This stuff is real and it is actually being tested and deployed to some extent already," Hartman said. She presented a video that offered concepts such as vehicles that can communicate to other vehicles, including buses and other public transportation, as well as to individual's smartphones. This covers identifying pedestrians that are in the path of a vehicle, or pedestrians searching for ride sharing opportunities (a beefed up Uber if you will) and public transit options.
Hartman added that the USDOT's CV Pilots Deployment Program will allow DOTs, municipalities and universities to create "functional, real-world deployments that use connected vehicle technology" via funding, technical and outreach support and other means to help "further development and successful deployment" to connected vehicle applications. Hartman said Phase 1 of this process of concept development would be occurring soon.
Schaffnit spoke about the potential of dedicated short range communications (DSRC) in a basic safety message concept for vehicle-to-vehicle crash avoidance, which has been proven through field testing, he said. The focus of DSRC deployment would be to prevent crashes, support automated driving developments, cut down on traffic-related emissions through congestion control, provide value to the drivers and increase transportation infrastructure throughput.
He offered several scenarios that would provide perceived value to drivers. This includes traffic light controls that would turn lights green for vehicles equipped with DSRC transmissions, for example, when there is no traffic coming the other way. The benefit of such traffic light controls, which he dubbed a "traffic light genie" would include driver and local citizen satisfaction, avoided or minimized crashes, a boost in sales of vehicles with DSRC capabilities or aftermarket equipment options, decreased equipment costs for road operators and potential justification for the USDOT in mandating DSRC equipment and increased funding for the program.
He referenced the National Highway Traffic Safety Administration's (NHTSA) expected notice of proposed rulemaking next year that is expected to require basic safety message transmission to be required on new vehicles possible as early as 2020. He also said the 2017 Cadillac CTS will have vehicle-to-vehicle communication technology, with other manufacturers possible following suit shortly thereafter and before NHTSA's target date.
Henderson stressed the importance of analyzing all the data that is now being collected related to infrastructure and transportation. "Our future is going to be determined by three things — people, technology and data. And those three are going to have to be wedded together in such a way that's that is what is going to create our future. People plus technology produces data."
He adds that data then becomes the ultimate decision making tool, justify actions and administrative decisions, his point being that public works results aren't necessarily transparent. That is, not until data is collected and then qualified and connected to results.