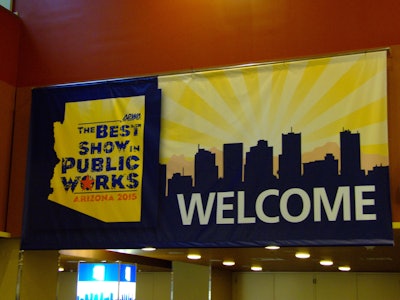 The American Public Works Association (APWA) opened its annual International Public Works Congress (IPWC) and Exposition in Phoenix announcing a new board of directors for 2015-2016, and by pumping up the crowd with an inspirational presentation from "Lone Survivor" Marcus Luttrell.
Luttrell, who spoke at the end of the first general session, gave an hour-long discussion of the experiences he detailed in his book, "Lone Survivor and Service: A Navy Seal at War," and the basis for the movie "Lone Survivor." His take away: never give up, a poignant topic, while graphically illustrated by Luttrell's presentation, that public works officials can understand with the financial and legislative roadblocks they face.
Larry Stevens, HR Green Inc. project director, passed the association's presidency gavel to Brian Usher, director of public works for Largo, Florida, for a one-year term. Stevens will remain on the board as past president, along with Ron Calkins, retired public works director for Ventura, California, who becomes the president-elect. Calkins will next service as president, and then subsequently as the past president.
Shahnawaz Ahmed, SA Associates president, is new to the board and will be Region VIII director. The following board members were re-elected:
Mary Joyce Ivers, fleet and facilities manager, department public works, Ventura, California, director-at-large, Fleet and Facilities Management; Richard Stinson, director of public works, Wakefield, Massachusetts, Region I director; Harry L. Weed, II, superintendent of public works, village of Rockville Centre, New York, Region II director; Richard T. Berning, (retired), Springfield, Illinois, Region V director; and Chuck Williams, PWLF, director of municipal services, Lenexa, Kansas, Region VI director.
Other remaining board members include:
David L. Lawry, director of engineering and public works, Village of Shaumburg, Illinois, director-at-large, Engineering & Technology; William Spearman, III, Saluda, South Carolina, director-at-large, Environmental Management; Kathleen B. Davis, director of highway and local programs, Washington Department of Transportation, director-at-large, Transportation; Maher Hazine, vice president/director of municipal operations, W.C. Scoutten Inc., Pine, Arizona, Region VII director; Cora Jackson-Fossett, (retired) Los Angeles, California, director-at-large, Public Works Leadership and Management; William Mills, director of public services, Germantown, Tennessee, Region III director; Tommy J. Brown, superintendent of fleet services, La Grange, Georgia, Region IV director; and Jill M. Marilley, senior project manager, HDR Inc., Shoreline, Washington, Region IX director.