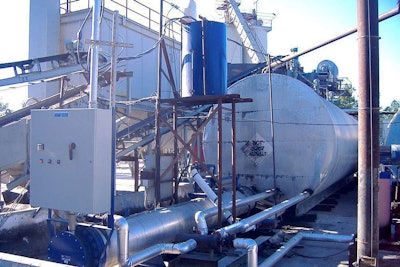 Process Heating's Lo-Density Unitized Storage Tank Heater provides highly efficient electric heating for asphalt tanks, a feature the company says can help plants achieve sustainability goals, such as those required by the National Asphalt Pavement Association's Diamond Achievement Sustainable Commendation.
The Seattle-based company says that electric heat eliminates stacks that need to be monitored for emissions and "eliminate" the need for air quality and boiler permits.
"Unitized Heaters can be interfaced and coordinated with other plant electrical equipment so that the load of the heaters can be reduced to base rates, thus preventing increased demand charges or peak-use rates and lowering consumption cost," the company says.
The Lo-Density Unitized Storage Tank Heaters are installed via a rectangular opening cut near the bottom of a tank or vat, with the heating element and control panel assembly slid into the tank and welded in place.
The heaters are compatible with a broad spectrum of tanks and vats. They can dissipate heat at a rate as low as three watts per square inch on the heater's sheath.
The design of these heaters feature drywell-style elements located inside the sheath that allows them to be accessed from outside the tank, and they can be installed into both horizontal and vertical tank and vat configurations.
"UL-listed controls offer easy-to-use complete automation of temperature regulation," the company says. "The main indicating temperature control regulates the product temperature and includes a high-limit control for safety. There is a main disconnect, and the individually fused heat circuits provide overcurrent protection.
"All components are mounted and prewired in a UL Listed, weatherproof NEMA Type 4 enclosure. Custom control panels are also available. Process Heating Company stands behind its equipment, offering an industry-exclusive five-year element replacement guarantee."