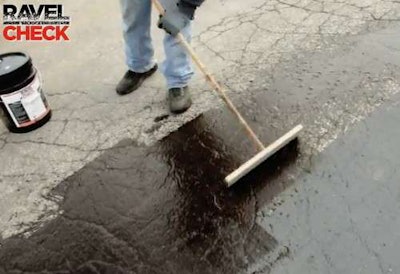 Unique Paving Materials says Ravel Check, its new liquid asphalt pavement preservation product can extend pavement life by 3 to 5 years.
The company says the product is designed to "penetrate the asphalt surface and rejuvenate the liquid asphalt binder, while protecting the surface against contaminants such as fuel, oil, water and de-icing agents."
Ravel Check is applied at warmer than 50 degrees F, does not need to be heated, and can be applied via brush, spray, or distributor trucks.
The company adds that the product is the final step in its overall maintenance system that includes it's KOLD- FLO crack filler and UPM cold mix asphalt repair material.
More information on Ravel Check is available here.