Better Roads editors step up and choose their "best of the best"
Buoyed by CONEXPO-CON/AGG 2011, this year brought with it a wide, innovative range of new equipment and products for the road construction and maintenance sectors. Many of these keen new introductions marched across the pages of Better Roads and www.betterroads.com . . . and rolled right into the marketplace where they will undoubtedly serve both serve contractors and agencies exceptionally well as they embrace the opportunities to come.
Upon reflection of the year that was, of the hundreds of product introductions editors reviewed and processed for our monthly New Road Products section, these are the 20 that most caught our collective eye for their industry significance, their ingenuity, their filling of a market need and/or their just plain ol' coolness. Keeping the list to 20 is difficult. It means, for instance, not choosing some tremendous new products that are exciting and important to the construction industry.
We, the editors of Better Roads, set ourselves the goal of determining our Top 20 only; and to reach it we had to do a lot of talking, negotiating and decision-making. We had to examine and then re-examine our reasoning and our selections. Believe me, this was one intense job.
Today we proudly toast these products and the deserving companies that create, design, manufacture and market them. Moving forward, we'd like to know how you have been, are or will be able to use any of these "best of the best". Any and all comments are not only welcome, but encouraged. Please drop us an e-mail over the coming year at mike.anderson@randallreilly.com or give us a shout at (205) 248-1310.
Arctic Snow and Ice
HD Sectional Sno-Pushers
Bergkamp
Mobile Stockpile Trailer
Case
DV207, DV210, DV213 Double-Drum Compactors
Caterpillar
CT660 On-Highway Truck
Caterpillar
AP1000E, AP1055E Asphalt Pavers
Doosan
Portable HP750e Electric Air Compressor
Dow
FASTRACK HE-2706 Resin
Ford
F-150 Eco-Boost Pickup Truck
GOMACO
4400 Barrier Machine
Gradall
XL 4100 IV Highway Excavator with AutoDrive
John Deere
460E Articulated Dump Truck
Maxwell Products
Novu Gap Meltable Crack Sealer
Power Pavers
SF-1700 Slipform Paver
Takeuchi
TB117e Electric Excavator
Terex
RS950B Reclaimer/Stabilizer
Terex
Hydra Platforms HPT 11/38
Vaisala
RoadDSS Value Calculator
Vogele
VR 600-2 Extending Screed
Volvo
G900B-Series Motor Graders
Volvo Trucks
VNM Daycab Natural Gas Option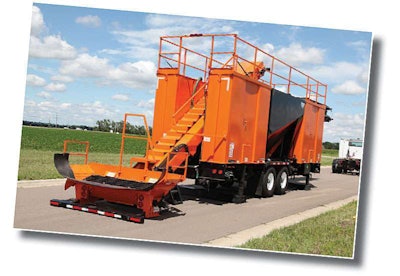 BERGKAMP Less time hauling, more time paving
A single piece of equipment that will cut out the need to locate, access, secure and manage off-site material stockpiles? It may seem like a dream to some roadbuilding contractors, but it's a reality thanks to asphalt pavement preservation equipment manufacturer Bergkamp. Debuted at CONEXPO-CON/AGG 2011, the Bergkamp Mobile Stockpile is a material-transfer and storage trailer that is pulled directly to the jobsite. There, trucks bring aggregate and emulsion from the supplier directly to the trailer, to which truck-mounted slurry seal or microsurfacing pavers can in turn connect and be fully replenished in less than 10 minutes. The main 21.5-cubic-yard hopper can either store or simultaneously transfer material via the unit's 24-inch discharge conveyor. The use of multiple pavers on surface treatment jobs as essentially haul trucks between off-site stockpiles and the application site is eliminated, thus allowing fewer pavers to do more actual work in less time, says Bergkamp. This, too, will avoid the risk of overweight citations. The mobile stockpile trailer is compatible with most slurry seal and microsurfacing pavers on the market, the company says. For more information, visit www.bergkampinc.com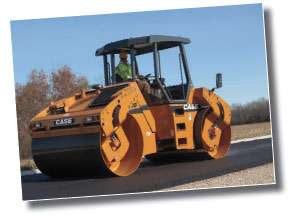 CASE
Renowned brand goes big on compaction
One of the construction equipment industry's signature brands, Case isn't just compact on compaction any longer. The company's first large double-drum vibratory compactors, the DV207, DV210 and DV213 unveiled at CONEXPO-CON/AGG 2011 have drum widths of 57, 66 and 83 inches respectively. This product introduction moves the Case DV family beyond the utility class – the previous largest model had a drum width of 51.2 inches – and into product asphalt paving applications. With machine weights ranging from 16,226 to 28,726 pounds, the three new Case double-drum compactors have rear-mounted power trains that lower noise, vibration and heat for operators relishing "superior comfort for long workdays," says Woody Ferrell, Case global product marketing manager. Dual, multi-function, directional controls on both sides of the swivel seat allow for machine operation from the left or right position in the rotating operator's station. The Case vibratory system automatically starts when the drive lever is moved from neutral; it automatically stops when the lever is returned to neutral. For more information, visit www.casece.com/wps/portal/casece/product?product=CompactionEquipment&brandsite_brand=CaseCE&brandsite_language=en&brandsite_geo=NA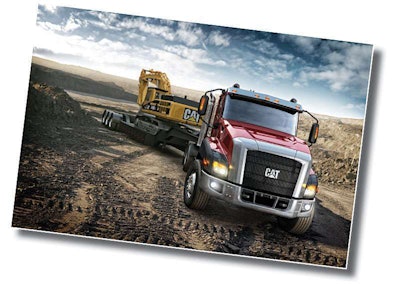 CATERPILLAR
On-highway vocational truck
The "yellow iron" customer is the Caterpillar customer, the company firmly believes. So with upwards to 30 percent of all Class 8 trucks sold being put into vocational applications, there's no secret at where the new Caterpillar foray into the manufacturing, selling and servicing of on-highway trucks is taking dead aim. "It's really about a company for the first time that focuses not just on a truck, but on the application of that truck in the construction business," says George Taylor, director, Caterpillar Global On-Highway Truck Group. "How does it work with load-and-haul? How does it work with the fill operations? How does it interact with the construction machines? That's really the direction we're going, because we know our customers don't use that truck by itself. Even if the construction company doesn't own the dump trucks it uses, as often the case in paving operations, the continuity of technology may still influence the spec'ing of the trucks that will ultimately land the sub work from the project contractor, says Taylor. "It's about trying to leverage that interaction between the two." Beyond the Navistar-made Cat CT11 and CT13 engines available on the sleek CT660 set-back-axle model built for mixer, dump and heavy hauler uses, a 15-liter CT15 will be available in 2012, boosting engine output to the 550-horsepower range from the current maximum 475. The same engine options will be available on the set-forward-axle CT680 truck model, due out in first-quarter 2013 with the same choice of 116- and 122-inch bumper-to-back-of-cab configurations. For more information, visit www.cat.com/truck
Ford
F-150 EcoBoost: Our Light-Duty Pickup of the Year
Combine the new Ford EcoBoost engine's prowess with the interior fit and finish, refined ride and overall handling of the venerable F-150 Crew Cab, and you have a pickup that rightly deserves to be named Better Roads' Light-Duty Pickup of the Year. So proclaims Bruce W. Smith, editor of ProPickup, a sister Randall-Reilly publication. "I used to think there's no substitute for cubic inches when it came to a stellar work pickup. I have been proven wrong – twin-turbo technology is a substitute," explains industry veteran Smith. "After spending a week behind the wheel of the 2011 F-150 EcoBoost, dressed up in the Lariat trim, it's hard to imagine any other half-ton in a contractor's work fleet. Ford's twin-turbo, direct-injected, 365-horsepower, 3.5-liter V-6 is more powerful than most 5-liter V8s, pulls like a diesel, and delivers class-leading fuel economy." With a fuel capacity of 26 gallons, the six-speed-automatic F-150 EcoBoost is EPA-rated at 16 miles per gallon in the city/21 highway; Smith's similar observations were 15.4 city/19.4 highway. Towing capacity of the truck is 5,000 pounds on the ball; 11,300 pounds with a weight-distributing hitch. For more information, visit http://www.ford.com/trucks/f150/2011/experiencef150/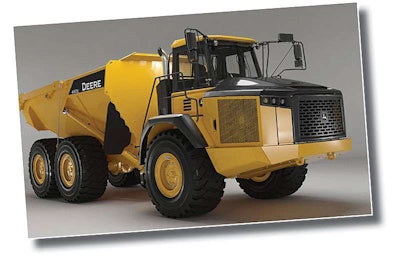 JOHN DEERE
New artic truck will run like a Deere
The first all-Deere articulated dump truck (ADT) will also be the largest Deere-branded "artic" ever. "Customers who now have 40-ton artics can use the 460E to get one more full excavator bucket into the truck," says Mark Oliver, ADT product marketing manager for John Deere Construction and Forestry. Announced at CONEXPO-CON/AGG 2011, the 46-ton-capacity truck will be the first ADT completely designed by John Deere, incorporating a Deere 13.5-liter engine, Deere wet-clutch axles and a ZF drive line. Prior John Deere articulated trucks have a Bell Equipment heritage, an alliance that will continue with some of Deere's smaller models. The first of Deere's E-Series models, the 460E will have automated traction controls, taking the guesswork out of when to use differential locks and allowing newer operators to get up to speed more quickly. In difficult ground conditions, the system will automatically control the axle differential locks and inter-axle differential lock. An on-board scale will let operators know when the truck is loaded to capacity, and the JDLink telematics system will allow monitoring of material moved each day. For more information, visit www.deere.com/wps/dcom/en_US/products/equipment/articulated_dump_trucks/articulated_dump_trucks.page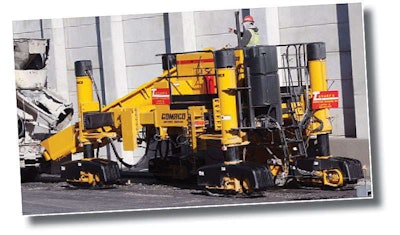 GOMACO
Barrier to the right, barrier to the left
As road contractors know all too well, equipment design hasn't always been entirely conducive to placing material where it is precisely required. Well, GOMACO typically has yet another complete solution for crews working with concrete. Shown for the first time at CONEXPO-CON/AGG 2011, the GOMACO 4400 ultimate barrier paver has a new frame design for right- and left-side slipforming. To accommodate operator control and visibility to the working areas, the new Glide control console slides from side to side. When not in operation, the operator's console locks safely away in the center position. Also new, GOMACO's Barrier Hook-and-Go system allows barrier molds up to 39.4 inches in height to be quickly mounted on either side of the machine. The barrier molds themselves are designed for proper vibration and consolidation of material, topped off by GOMACO's exclusive trailing stainless steel for superior finishing, the company says. A side mount is available to accommodate larger barrier. The 4400 unit has symmetric steering and proprietary G+ controls operated in multiple languages. For more information, visit https://www.gomaco.com/Resources/4400barrierpaver.html
DOOSAN PORTABLE
An electrifying compressor
Talk about clean air! At CONEXPO-CON/AGG 2011, Doosan Portable Power rolled out a portable, highway-towable compressor that can deliver 750 cubic feet per minute of free-air . . . and no emissions. As compared to the diesel engine of the established HP750 model, a three-phase electric motor powers the new HP750e, controlled by a liquid-cooled, variable-frequency drive system. Features include an intuitive full-color digital display and easy-to-use interface that can be wirelessly monitored. An optional full gauge package is customizable and has an LED backlighting system for enhanced visibility. Other options include the IQ System aftercooler for drip-free moisture control, dual-pressure regulation and up to one 2-inch and three 1.25-inch air valve additions. For more information, visit http://www.doosanportable.com/americas/products/compressors/Pages/default.aspx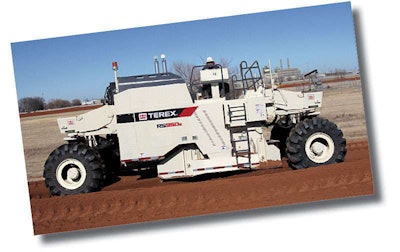 TEREX
Largest reclaimer yet is ready to roll
Faster, bigger, stronger: A new Olympics motto, perhaps? Terex Roadbuilding's newest top-of-the-line reclaimer/stabilizer, indeed! Boasting 30-percent-plus more horsepower than the next most powerful competitor, the RS950B is capable of cutting deep asphalt at unparalleled speeds. Why a 950-horsepower reclaimer/stabilizer? "It's strictly for production," it was explained to visitors to the massive Terex outdoor booth at CONEXPO-CON/AGG 2011. The four-wheel-drive, four-wheel-steer unit can, with its choice of high- and low-range working speeds, operate at up to 210 feet per minute. During a heavy reclamation application requiring six or even eight inches of asphalt to be cut, the RS950B is claimed to produce at twice the rate of the 600-horsepower RS600 size model, the previous largest in the active Terex reclaimer/stabilizer family. Powered by a Caterpillar C27 diesel engine, the RS950B offers a choice of four cutter speeds – 102, 131, 163 and 200 rpm – and bi-directional cutting thanks to the unique housing's front and rear doors. Compared to hydrostatic systems, Terex's V-belt power-band cutter drive provides up to 25-percent more efficient operation. The RS950B's standard 8-foot-wide cutter has 218 tungsten carbide teeth capable of cutting 16 inches deep. Available rotors allow for the option of a 10-foot-wide cutter, or a 58-inch-diameter mandrel for 20-inch-deep cuts. For more information, visit http://www.terexrb.com/Content.aspx?pgID=437
DOW
A Fast response to traffic paint shortage
When a paint supply crisis hit across the nation for Departments of Transportation and highway contractors alike, Dow Coating Material's research and development team stepped up. "As we learned again last year, shortages of traffic paint can have a direct effect on public safety, and that's not acceptable," explains Stan Cook, Dow traffic paint marker manager. "When the supply crisis struck, we accelerated our high-efficiency development schedule in order to help customers and DOTs meet a challenge that had become a crisis." The result, displayed at the American Traffic Safety Services Association convention and expo in February, is the new FASTRACK HE-2706 resin with higher pigment binding efficiency, higher pigment loadings and a reduction of titanium dioxide. The product does not sacrifice drying time or properties such as "sprayability," visibility, durability or stability. It provides a reduction of up to 30 percent in the amount of latex necessary in waterborne traffic marking paint. For more information, visit www.dow.com/products/product_detail.page?display-mode=tds&product=1120397
MAXWELL PRODUCTS
Melt away patch pack
So, you've got a small patch job or a depression around a drain or curb, where hot mix is impractical and crack seal is ineffective. What can you do about it, right? Well, Nuvo Gap from asphalt and concrete sealant manufacturer Maxwell Products offers a permanent, rubberized, hot-pour solution that, best of all, is packaged in a meltable container designed to absorb completely into the product upon application. With Poly-Skin, there's no need for opening or even cutting the product packaging on site. Nuvo Gap's combination of high-performance sealant and engineered aggregates forms a self-leveling, load-bearing, weather-resistant bond, ideal for wide cracks and other large gaps in pavement. For more information, visit http://www.nuvosealants.com/product_gap.php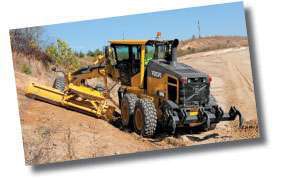 VOLVO
New motor graders built to bear down
It's difficult to argue when Volvo Construction Equipment says "what really matters" for grader productivity is blade down pressure and blade pull force. Well, with an emphasis on overall machine balance and distribution of the main grader components, the company's new G900B-Series motor graders have the highest blade down pressure in each weight class. Using larger-displacement engines with cooled exhaust gas recirculation technology to meet Tier 4 Interim emissions requirements, each of the G930B, G940B, G960B and all-wheel-drive G946B motor grader models can be driven by either the standard HTE840 transmission with eight forward and four reverse gears or the optional HTE1160 transmission with 11 forward and six reverse gears. These Volvo transmissions boast three and eight power curves respectively, matching power output to the traction available. Each also uses the "shuttle shift" system to move between forward and reverse without the operator needing to stop the machine or use the inching pedal. The four models in the new Volvo motor grader series range 34,520 to 38,709 pounds in operating weight. For more information, visit https://www.volvoce.com/united-states/en-us/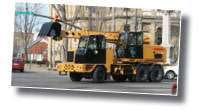 GRADALL
Park the lowboy for this excavator
An excavator capable of reaching speeds even greater than those permitted on many local roads: If that isn't the best definition of a highway excavator, then what is? The Gradall XL 4100 IV comes equipped with the new AutoDrive system, featuring a six-speed automatic Allison transmission. Powered by a 245-horsepower Mercedes Tier 4 Interim engine, the new XL 4100 IV telescoping excavator reaches speeds of 60 miles per hour on the highway. Once arrived at the jobsite, the AutoDrive's new transfer case allows the wheeled excavator to be repositioned – at a maximum 5 miles per hour – from the excavation operator's seat located in the upperstructure cab. Along with the new XL 4100 IV, available with either a 6×4 or 6×6 drivetrain, Gradall is introducing a yellow paint scheme designed to increase machine visibility. Maximum boom reach at grade is 30 feet 3 inches, maximum dig depth is 20 feet 3 inches and maximum loading height is 17 feet 2 inches. The boom crowd force is rated at 21,940 pounds and, opposite to conventional excavators, it remains constant throughout the dig cycle. For more information, visit www.gradall.com/excavator-models/en/highway_wheeled.html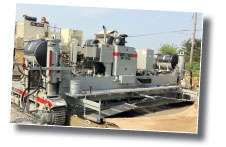 POWER PAVERS
Less than full-size slipform paver
Why fire up a large piece of equipment when, frankly, the available load just doesn't merit so? With its new compact slipform concrete paver model, Power Pavers offers an economical solution to a market issue based interestingly enough on material supply. "With the ability to pave up to 7.5 meters (24 feet 7 inches) wide, the SF-1700 was developed to react to the contractor demand for two-pass paving in many highway applications," says Fred Hite, general manager of the Power Pavers Inc. subsidiary of Power Curbers. "In many developing countries, concrete supply is an issue, so paving in two passes is more practical than one pass." By reducing the engine size and mainframe width of the company's mainstream SF-2700 model, Power Pavers was able to develop the SF-1700, which comes standard with a 160-horsepower Cummins engine, 12 Wyco vibrators, and a spread auger and tamper bar. Within a month of introduction, Power Pavers had placed units in three countries, says Hite, and "we are getting great reports from our customers who have put them to work." For more information, visit https://www.powercurbers.com/products/slipform-pavers/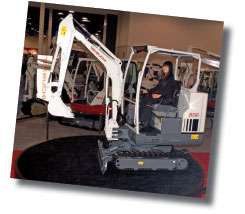 TAKEUCHI
Electric excavator takes center stage
One of the operational advantages to the most compact of hydraulic excavators is the ability, size wise, to be put to work indoors as well as the traditional outdoors. With Takeuchi's introduction of a "world's first" at CONEXPO-CON/AGG 2011, the use of a hydraulic excavator in an environmentally-sensitive enclosed space just got much less tricky. The first fully electric-powered excavator, the TB117e boasts zero exhaust emissions and reduced vibration and sound levels that will suit it for demolition, foundation and clean-up jobs in hospitals, schools and other sensitive, highly-congested areas. The undercarriage retracts from the stable full-width 51 inches to a minimum of 39 inches for passage through doorways. The TB117e has a lithium-ion battery that, when fully charged, can power up to six hours of uninterrupted performance that, says Takeuchi, is on par with its established 1.6-metric-ton TB106 excavator model. Capable of traveling at 2.9 miles per hour, the TB117e boasts bucket breakout force of 4,079 pounds, arm crowd force of 1,704 pounds and traction force of 3,801 pounds. For more information, visit https://www.takeuchi-us.com/
VöGELE
Screed stretches but retains paving integrity
Going wide doesn't have to mean losing shape for asphalt paving contractors, thanks to a new rear-mount Vögele screed introduced at CONEXPO-CON/AGG 2011. For use on Vision Series pavers from Wirtgen's Vögele brand, the VR 600-2 extending screed offers vibration across the full paving width, up to 28 feet. The screed's basic width is 10 feet, extending hydraulically up to 19 feet 8 inches and then, with bolt-on extensions fitted, an additional 8 feet 4 inches. The three-section telescoping tube, allowing infinitely-variable screed width control, remains rigid and robust even at maximum extension. Each individual section never extends by more than half. When sloping the extensions on jobs, only the frame of the screed extension is slanted, leaving the guide system horizontal at all times and providing maximum rigidity. A three-point suspension prevents the extensions from jamming or pinching. With ErgoPlus, the screed operator has the placement of asphalt literally at his fingertips with waterproof push bottoms enclosed in a raised ring for touch identification even when wearing gloves. Crown and extension height adjustment are set independently. For more information, visit https://www.wirtgen-group.com/
ARCTIC SNOW & ICE CONTROL
A solution to the ups and downs of plowing
The fewer the number of passes a snow removal contractor requires to clear a lot or street, the quicker he's off to his next job . . . and next paycheck. Such is the bottom-line appeal to HD Pushers, a boxed snow-removal attachment product line created by the Sectional Sno-Pusher division of Arctic Snow and Ice Control Products. The patented moldboard design features individual 32-inch-wide sections equipped with spring-loaded trip edges. Each section responds to changes in the pavement, moving up and down on its own, allowing the loader attachment to contour to uneven surfaces and reduce the amount of re-plowing required. As compared to competitive plows or pushers that have rubber or polyurethane cutting edges, AR-400 hardened-steel edges are used on each individual moldboard section. These are designed to scrape down to the pavement to remove snow and ice in a single pass. Each section of moldboard is individually mounted to the attachment's mainframe with engineered polyurethane blocks, requiring a section only to be unbolted, removed and replaced if damaged. For more information, visit www.sectionalplow.com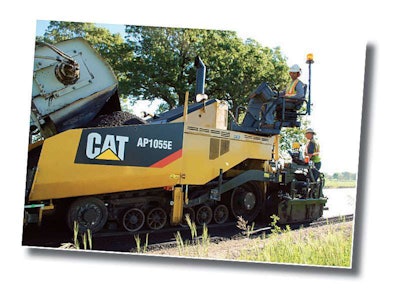 CATERPILLAR
E-missions covered by asphalt pavers
Wherever the paving job is, the new Caterpillar E-Series highway-class asphalt pavers are out in front on emissions requirements. The first asphalt pavers to meet Tier 4 Interim standards, courtesy the Cat C7.1 ACERT engine, the 10-foot-class AP1055E tracked paver and the sister AP1000E wheeled model are also available with the C6.6 ACERT engine for markets where only Tier 3 is required. Both engine models deliver 225 horsepower. To meet Tier 4 Interim emissions requirements, the C7.1 engine combines the Cat NOx Reduction System and Cat Clean Emissions Module. Each paver model has a dual operating station, equipped on the left side with the Advisor Monitoring System, an interactive, text-based, multi-language interface packed with fuel-saving features. These include an engine speed control that automatically adjusts engine rpm when the propel lever moves to and from neutral, and an eco-mode that lowers engine speed to 1,650 rpm when less demanding operating conditions exist. The display provides project-planning calculators, a start-up checklist, engine operating conditions and service code information. On the tracked AP1055E paver, the Mobil-Trac undercarriage uses large oscillating bogies and hydraulic accumulators to overcome surface irregularities. For more information, visit
http://www..cat.com/equipment/paving-equipment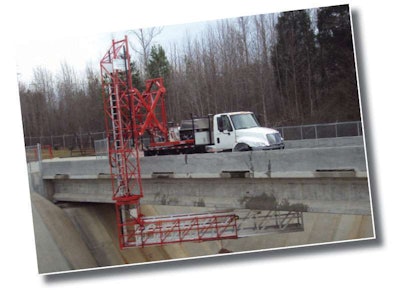 TEREX
Platform-mounted truck does not require CDL
Moving a formidable under-bridge access platform from jobsite to jobsite just got considerably easier, thanks to Terex Roadbuilding's first truck-mounted cross model – matching the trailer platform with a truck chassis. Being within the 26,000-pound maximum gross vehicle weight limit, the HPT 11/38 does not require a driver/operator with a Commercial Driver's License (CDL). The telescopic platform is 38 feet long and a maximum 42 inches wide and, upon arrival at the jobsite, is self-propelled into position by hydrostatic drive. Single-lane deployment takes a mere five minutes. Platform weight capacities of 1,000 pounds total and 500 pounds at the end are enough to securely accommodate multiple workers with tooling. Offering a maximum 16 feet of lowering depth and 180-degree rotation, the under-bridge access platform is ideal for applications ranging from bridge inspection and restoration to stripping operations and utility work. For more information, visit
http://www.terexrb.com/Content.aspx?pgID=430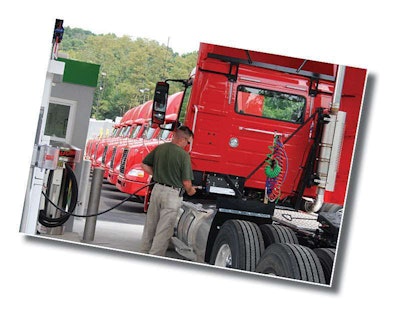 VOLVO TRUCKS
Daycab tractor can run on natural gas
The United States has plenty of natural gas . . . and truck fleets have an option to put it to good use. The Volvo VNM Daycab tractor model now comes with a factory-installed natural gas option, ideal for "localized or closed-loop operations," says Ron Huibers, Volvo Trucks' senior vice president, sales and marketing. Such applications "present a great opportunity for companies to utilize our nation's abundant domestic supply of natural gas," says Huibers. "Volvo is already delivering the cleanest trucks in the world in terms of regulated emissions, and now we're offering an alternative fuel option to move our nation's goods while emitting less carbon dioxide." The tractor is powered by a 9-liter, 320-horsepower Cummins Westport ISL G engine that uses clean-burning compressed or liquefied natural gas. The heavy-duty engine, generating 1,000 foot-pounds of torque, requires only a three-way catalyst to meet EPA 2010 on-road emissions standards. For more information, visit https://www.volvotrucks.com/en-en.html
VAISALA
Weather moves
Wondering what the true benefits of a Road Weather Information System (RWIS) would be for your agency? Intelligent transportation systems manufacturer Vaisala has a free, quick way for you to find out. The RoadDSS Value Calculator in an online tool that evaluates potential cost and community savings to using various RWIS or road decision support systems. The calculator asks 12 questions about road maintenance operations. Once the user has input infrastructure and cost information, the calculator uses embedded algorithms to produce calculated savings based on referenced study findings. The report provides a breakdown of all direct and indirect savings, including such safety factors as accident reductions and environmental factors such as reductions in carbon and other pollutants. A user can adjust any of the information input to tailor the end report to reflect the agency's needs. For more information, visit www.vaisala.com/roaddsscalc