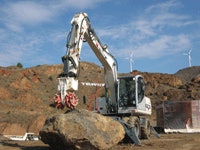 Southaven, Miss. –Terex has introduced seven hydraulic transverse cutting units to the North American market. Featuring transmissions with patented gear reduction technology, these attachments are designed for use with the Terex® family of excavators (models ranging from 4,400 lbs to 132,000 lbs) and with Terex® tractor loader backhoes for excavation, scaling and demolition work. Terex® hydraulic cutting units are ideal for trenching in pipeline construction; building renovation; demolition; road construction; landscaping; tree removal; scaling, profiling; and underwater and dredging applications.
"Our cutting units are manufactured for efficient material crushing," says Mike Collins, Terex Construction parts sales and service representative for North America. "They are designed for smooth, quiet running, low vibration and equipment-friendly operation. With a wide selection of motors, drums and picks available, our cutting attachments can be matched to the application for high cutting performance and low pick wear."
The Terex® cutting unit range is comprised of seven models — WS15, WS30, WS45N, WS60N, WS90N, WS120N and WS150N — all designed with heavy-duty spur gears and bearings, powered by a low-speed, high-torque hydraulic drive motor ranging from 24 hp to 190 hp and a hydraulic flow ranging from 8 gpm to 158 gpm. The transmissions of Terex® hydraulic transverse cutting units feature patented gear reduction that boost cutting power. All seven models offer a choice of hydraulic motors, ensuring a flexible adjustment to individual carrier and operating conditions.
Three standard cutting heads are available for use with Terex® cutting attachments: excavation, scaling and demolition. The excavation drum is best suited for soft to medium-hard rock; the scaling drum is ideal for applications in soft to medium-hard rock where a precise or smooth surface is required; and the demolition drum works best in medium-hard to hard rock and concrete.
Terex offers a wide range of pick options to maximize productivity and enhance pick life, including standard, heavy-duty, wear-protected and wood cutter, for its hydraulic cutting units. The standard picks are designed for soft to medium rock such as asphalt, salt and slag. Heavy-duty picks are ideal performers for medium-hard to very hard rock like limestone and concrete. Wear-protected picks are best suited for very abrasive materials, including sandstone and blast-furnace crushed stone. Wood cutter picks are available for grinding tree stumps.
Terex also offers cutting units for non-standard applications, such as cutting drums and slot-cutting drums in various widths and diameters; drums for stump grinding; and anti-dust systems for indoor operations, available by special order. When matched with an adapter bracket, these Terex® cutting units can be used with almost any make of excavator, backhoe loader or special mining machine.
Terex has over 40 years of experience in cutting technology and is a worldwide market leader in this sector of hydraulic transverse cutting units. For more information about the new Terex® Cutting Units, call 866-837-3923
About Terex
Terex Corporation (NYSE: TEX) is a diversified global manufacturer with 2007 net sales of more than $9.1 billion. Terex operates in five business segments: Terex Aerial Work Platforms, Terex Construction, Terex Cranes, Terex Materials Processing & Mining, and Terex Roadbuilding, Utility Products and Other. Terex manufactures a broad range of equipment for use in various industries, including the construction, infrastructure, quarrying, mining, shipping, transportation, refining, and utility industries. Terex offers a complete line of financial products and services to assist in the acquisition of Terex equipment through Terex Financial Services. More information on Terex can be found at www.terex.com.