The Boss Snowplow has introduced two new models to its line of DXT Plows: 8-foot, 2-inches and 9-foot, 2-inches Poly, Steel and Stainless Steel DXT Plows.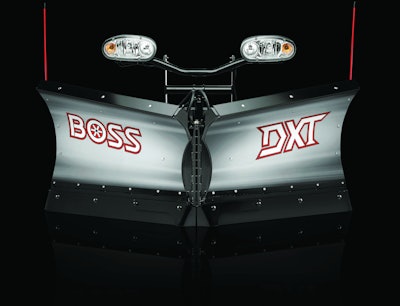 The new multi-position plows join the 10-foot Steel DXT and offer vehicle impact protection with a base angle that trips independently to reduce impact when low obstacles are hit and The Boss full moldboard trip protect against tall obstacles.
The latest DXT models feature heavy-duty torsion springs to maximize trip-edge performance, heavy-duty push frames and center sections to minimize blade twisting, SmartHitch2 Attachment System to simplify the attachment process and a flare-wing design to throw snow high and far.
The plows also include wear-resistant curb guards and snow catcher.
A fully enclosed, weather-protected hydraulic system offers low maintenance.
For more information, visit bossplow.com/power-v-dxt-plows.