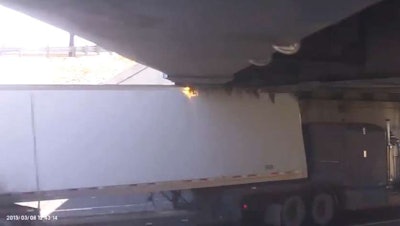 The Indiana Department of Transportation (INDOT) has released a video showing multiple trucks striking a Virginia Avenue Bridge underpass, according to a report from NBC News.
Transportation officials installed a camera at the underpass because large trucks have repeatedly hit the 40-year-old bridge for years. Bridge inspectors have been called to the site at least 70 times since 2006 to inspect possible damage following reports of bridge strikes.
A 2011 report from WTHR in Indianapolis stated that the bridge had been hit 23 times on the northbound side and 25 times on the southbound side.
[youtube HoisCDmpSsU nolink]
The northbound lanes under the bridge have a clearance of 13 feet, 11 inches, and the southbound lanes have a clearance of 14 feet.
Nathan Riggs, spokesman for INDOT's Greenfield District, told NBC News that the agency has received $4.1 million of the $4.7 million it has submitted in claims statewide so far in fiscal year 2013 to repair damage caused by bridge strikes documented by police reports. After one particular strike to the Virginia Avenue Bridge, INDOT submitted a $107,462.24 damage claim and received $105,085.35.
Officials released the video (shown to the right) of trucks striking the Virginia Avenue Bridge in hopes of reducing complaints about upcoming three-month-long detours around bridge repairs. INDOT plans to lower about a half-mile of interstate roadway beneath several bridges. The project will cost $15 million to $20 million, and about 90 percent will be federally funded.
According to a report from FOX 59 in Indianapolis, lowering the road rather than raising the bridge will save time and money and will prevent crews from having to shut down all seven streets that travel on the bridges. Construction is expected to begin this month.
The video's release follows a report that bridge strikes could contribute to a fracture-critical status, though the Virginia Avenue Bridge has not been deemed fracture-critical by highway officials or bridge inspectors.