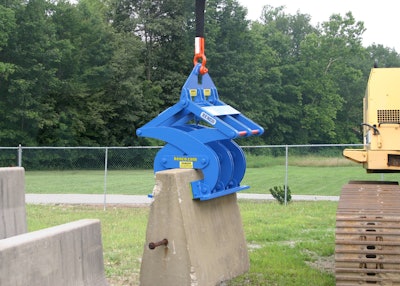 Handle precast barrier and curbing with the newly-redesigned Barrier Lift from Kenco, which grabs and releases wall automatically from inside the cab.
Kenco's Barrier Lift line has new features such as integrated handles to allow ground personnel to guide the lifter, and a rotating pad that angles automatically to conform to the wall's shape.
The attachment also features changes from the previous models, including a narrower profile to allow the lifter to work in more confined spaces and perform closer stacking operations, and a larger elastomer pad area to provide a more secure grip.
The Barrier Lift is designed to grip top wall widths from 6 inches to 12 inches, and lifting capacities range from 9,000 pounds to 40,000 pounds.
For more information, visit kenco.com.