Fowler Wyler Clinotronic Plus enables land survey company's Accu-Slope product to improve measurement accuracy and speed
The Challenge
About eight years ago, Holland Surveyors served as a road survey subcontractor to paving companies with the South Carolina State Department of Transportation's (DOT) interstate rehabilitation projects.
For these projects, Holland Surveyors measured the inclination of a road surface called cross-slope, i.e. the downward slope of the road on each side to minimize water accumulation on the road. Measuring cross-slope must be done continuously during road construction to ensure the inclination is within certain specifications.
The South Carolina DOT has tight cross-slope specifications that paving contractors must meet, according to Holland Surveyors President and Operations Manager Al Holland. The cross-slope specification provides tolerance guidelines or cross slope ranges for the contractors to stay within. The Level One tolerance equates to no more than a 1/4-inch of slope across a 12-foot-wide travel lane.
Typically, travel lane cross slopes had been measured and checked using traditional surveying methods. These methods required using two or three man survey crews with auto levels or total stations to collect rod readings on the travel lane. Additional time was then needed to perform calculations to determine the cross slope based on the observed readings.
The traditional methods were prone to errors that frequently degraded accuracy to a level that made them ineffective for checking the narrow tolerances required.
Al Holland said, "These challenges are what drove me to look for a better way."
The Solution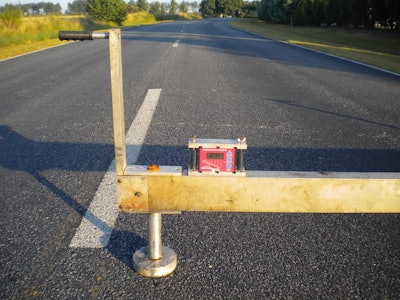 Developing his own approach to cross-slope measurement, Al Holland began looking for a digital inclinometer to integrate into his product design.
"I heavily researched the measurement component of my product and looked at many products to find a truly precise inclinometer," said Holland. "The Fowler Wyler Clinotronic Plus best fit my needs, and after integrating it into my frame and testing it, I realized it did a surprisingly good job and never considered trying other products."
The inclinometer had to be able to withstand the high temperatures associated with paving activities, be simple to operate, be power efficient and provide the precision required for the cross slope measurements. The Fowler Wyler Clinotronic Plus met all of those conditions.
The Fowler Wyler Clinotronic Plus is a versatile electronic inclinometer. It is economically priced and uses a specially-designed microprocessor and the Wyler inclination sensor. Its features include:
• Range of ±45 degrees, capacity of zero to 360 degrees
• Resolution of 0.01 degrees (selectable)
• Adjustable base length
• Display: use any units common to inclination measurements
• Desired units to be selected by push button
• Automatic setting of zero by push button command
• Absolute or relative measuring mode selectable by push button
• Built-in calibration program
• Uses standard 1.5-volt AA batteries
• Seal-tec technology for excellent performance even in difficult environmental conditions
• Interface connection RS-232 is integrated; special purpose cables available
• Low battery indication
• No loss of calibration data by power failure
• Includes fitted case
The Results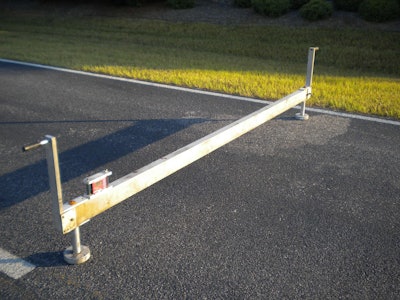 Al Holland developed his new Accu-Slope product with the integrated Fowler Wyler Clinotronic Plus on the job and found it immediately eliminated many of the problems associated with conventional road slope measurement.
"With Accu-Slope, I was able to provide dynamic, real time measurement reports to contractors as they were placing the asphalt," said Holland. "The Accu-Slope can be assembled and used by one person and yields a real-time cross-slope value much faster and nearly three times as precise as conventional methods. And not only did I increase productivity, but also saved money on labor costs as I turned my 2-3 man crew into a one-person operation."
"And Accu-Slope, paired with the Fowler Wyler Clinotronic Plus, gave me an advantage in the competitive bid process to secure contracts with the South Carolina DOT," continued Holland. "Because I was able to reduce the amount of labor I needed, I could reduce my proposal fees."
Accu-Slope with the Fowler Wyler Clinotronic Plus is now a patented product, and Al Holland has launched it into the marketplace working with International Cybernetics Corporation. He continues to receive positive feedback from contractors in the field that work with Holland Surveyors.
"Road construction companies like Accu-Slope because state inspectors will make them remove and replace asphalt sections that do not meet the cross-slope specifications. Our use of Accu-Slope prevents this from happening," said Holland.
Accu-Slope has gained its share of customers, with many road construction companies in South Carolina using this system and other states' departments of transportation interested in its use. In addition, Holland Surveyors' own use of Accu-Slope has inspired construction companies they work with to adopt use of the Fowler Wyler Clinotronic Plus and Accu-Slope. One of those organizations is Sloan Construction Company out of Duncan, South Carolina.
"When you are working with state inspectors you need to achieve what they are asking for," said Danny Doetch, Training Specialist at Sloan Construction Company. "In working with Holland Surveyors we found we didn't have to correct as many road tolerances that were out of slope. We didn't want to guess on the specification numbers, and purchased our own Fowler Wyler Clinotronic Plus to prevent having to tear out paving jobs and do them twice. With the Fowler Wyler Clinotronic Plus we are producing a better quality product."
Holland Surveyors, founded in 1983, is a land survey firm based in Lugoff, South Carolina, providing pre-construction, environmental and control surveys, as well as laser scanning and cross slope verification services within North and South Carolina.