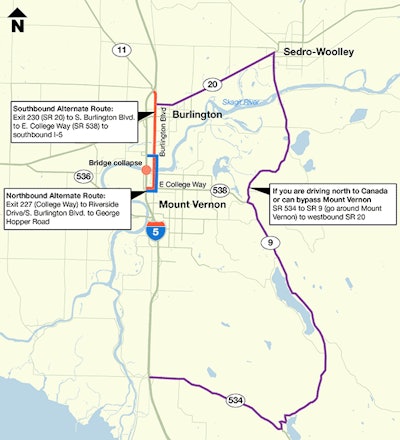 The Washington State Department of Transportation (WSDOT) has announced that Interstate 5 has been closed in both directions in Skagit County south of Burlington.
The agency said via Twitter that drivers should avoid the area or expect delays.
WSDOT suggested the following alternate routes:
Southbound traffic: Take eastbound State Route (SR) 20, then south on South Burlington Boulevard and west on East College Way (SR 538) to southbound I-5

Northbound traffic: Take eastbound East College Way to northbound Riverside Drive-South Burlington Boulevard, then west on George Hopper Road to I-5.

SR 9 to bypass Mount Vernon: Take Exit 221 at SR 534 east to northbound SR 9 to SR 20 westbound to I-5.
The map to the right shows the alternate routes. The map is also available at wsdot.wa.gov.
Authorities have not announced any specific replacement plans for the I-5 bridge over Skagit River.