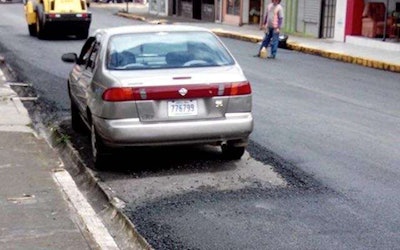 This picture comes from a road in San Ramón, Costa Rica. Apparently the owner of the vehicle refused to move it, so work crews decided to just pave around it.
Apparently the small town did not have the right to move the vehicle. According to the Facebook post where the picture where the picture was discovered, absent parking in front of a fire hydrant, a yellow-lined curb or in a handicap spot, re-paving the street is not an acceptable reason for calling a tow truck.
The car's owner, Jorge Luis Vazquez, told AmeliaRueda.com that there was no signs indicating the road would be paved that day and that no one called him to ask that he remove his car. Vazquez said he left his car on the street near the town's bus station at 6 a.m. to ride into San José on business, and it wasn't until he returned later that afternoon that he discovered his car paved in.
Props to the work crew for managing to pave around the vehicle without hitting it!