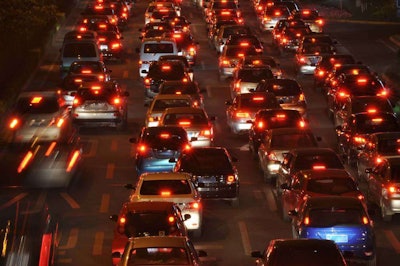 The average U.S. commuter spent $818 on traffic congestion costs in 2011, according to a 2012 Annual Urban Mobility Report from Texas A&M's Transportation Institute. That number may grow to $1,010 in the next decade or less.
The total cost of congestion in 2011 amounted to $121 billion, a $1 billion increase from 2010. About $27 billion of those costs come from wasted time and diesel fuel from trucks moving goods on the system.
The report shows that congestion wastes time, fuel and money. In 2011, congestion caused:
use of 5.5 billion hours of extra time, which is equivalent to the time businesses and individuals spend each year filing taxes

2.9 billion gallons of wasted fuel, or enough to fill four New Orleans Superdomes

$121 billion of delay and fuel cost, which is equivalent to the overall cost of 12 average flu seasons

56 billion pounds of additional carbon dioxide (CO2) greenhouse gas released into the atmosphere during urban congested conditions, or as much CO2 released as the liftoff weight of more than 12,400 Space Shuttles with all fuel tanks full
Also, in 2011, 22 percent, or $27 billion, of delay costs from congestion affected truck operations. This does not include the value of the transported goods.
According to the report, congestion is still below its 2005 peak, though conditions are expected to return as the economy improves. In fact, congestion has increased substantially in the past 30 years, and, as the report states, "….when the economy recovers, so does traffic congestion and when unemployment lines shrank, lines of bumper-to-bumper traffic grew."
The report states that if nothing is done to improve congestion over the next five to ten years, the U.S. can expect a number of consequences. National congestion costs will likely increase from $121 billion to $199 billion in 2020 (in 2011 dollars). Delays will increase to 8.4 billion hours and wasted fuel will increase to 4.5 billion gallons by 2020.
By 2020 the cost to the average commuter will grow to $1,010 (in 2011 dollars), and they will waste 45 hours and 25 gallons.
If the price of gasoline increases to $5 per gallon, the congestion-related fuel cost would increase from approximately $10 billion in 2011 to about $22 billion in 2020 (in 2011 dollars).
The data show that the most effective way to reduce traffic congestion is to involve agency actions as well as efforts from businesses, manufacturers, commuters and travelers.