Special coverage from the World of Asphalt trade show in San Antonio and the Mid-America Trucking Show in Louisville
Text INFO to 205-289-3789 or visit www.betterroads.com/info
Dynapac
Transverse-engined soil compactors
Dynapac introduced a new range of soil compactors at World of Asphalt with a transversely-mounted engine — a design move which makes almost all of the engine easily accessible to mechanics when the hood is lifted. Dynapac says the sideways engine eliminates a problem common with the larger Tier 4i engines, which, traditionally mounted with the cooling package at the rear and the engine in front of that, can require mechanics to reach over wheels to get at the engine.The compactors range from 12 tons (CA 2500) to 15 tons (CA4000), and feature an 84-inch drum and an Active Bounce Control system that provides basic stiffness feedback and "eliminates the chance of over compaction," says the company. www.dynapac.com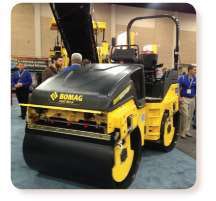 Bomag
Economizer now on BW138AD roller
At its World of Asphalt booth in San Antonio, Bomag featured its update to the BW138AD tandem roller, which now has the Bomag's Economizer technology as an option. The Economizer provides operators with a real-time reading of soil stiffness during the compaction process. The Economizer uses an acceleration sensor to measure stiffness across the compacted material, then displays the data using a series of ten yellow LED lights on the roller's instrument panel. The lights stop increasing when maximum compaction has been achieved and suddenly drop to indicate a weak spot in the material. The Economizer also uses a red LED light on the display to warn the operator of potential over-compaction. The BW138AD-5 has a maximum centrifugal force of 10,800 pounds, a working width of 54.3 inches and 35.4-inch diameter drums. www.bomag.com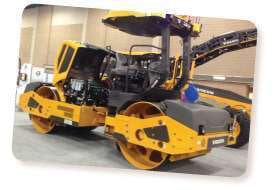 Volvo
Bigger, better roller
Volvo introduced its DD110B asphalt compactor at World of Asphalt today. The roller, which is replacing the DD90, features larger drums, more amplitude, higher frequency, increased centrifugal force and more water storage (made possible with two tanks) than its predecessor and is powered by a Tier 4i Volvo engine. Volvo also included a new operator system with new features like a six-way adjustable seat, tilt steering wheel, instrument cluster and a newly-designed ROPS canopy.This compactor has three drum options: 2-amplitude high frequency, 8-amplitude high frequency and 8-amplitude high frequency and altitude. www.volvoce.com
Volvo
Better operator interface and visibility
Volvo unveiled its P7110 paver at World of Asphalt. The paver belongs to the P7000 series, which replaces the PF6000 series. A Volvo spokesperson says the focus when creating the pavers was on operator interface and visibility. This paver, powered by a Tier 4i Volvo engine, has a 10-foot width, a maximum paving width of 26 feet, a paving depth of 0.25 inches to 12 inches, a hopper length of 6.73 feet, an inside hopper length of 10.58 feet and a 16.5-inch auger diameter. The P7110, the largest of Volvo's pavers, features changes from its predecessor including more horsepower, low deck, platform appearance, color-coded control panels, 12-hour run time, backlit switches, grouped controls and hydraulics to handle high altitude. www.volvece.com
Case
New compact compaction equipment
Case introduced its DV Series of compaction equipment at World of Asphalt. The new DV Series–DV23, DV26, DV36 and DV 45–replaces the DV 201, DV202 and DV204. The series is designed for applications such as paving parking lots, bike paths, tennis courts and other small- to medium-sized projects. The DV Series rollers, all powered by Tier 4 Yanmar engine, have drum widths ranging from 39 inches to 54 inches and operating weights ranging from 4,960 pounds to 10,295 pounds. New features include a narrow hood design, a tighter turning radius than the previous models, and offset tapered drums.The DV Series also features rollover protection system (ROPS), an iso-mounted operator platform, a lateral sliding seat, an automatic vibration control system, gas strut assist opening hood, an external fuel fill, Teflon articulation joint and check points located on one side of the machine. www.casece.com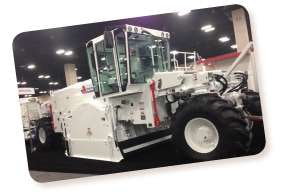 Roadtec
Reclaimer/Stabilizer
Roadtec's SX-4e reclaimer/stabilizer was introduced at the World of Asphalt. It is powered by a Cummins QSX-15 Tier 4 engine (Roadtec recently switched from Caterpillar engines over to Cummins), features a belt-driven cutter drum that can turn at four different speeds and an air shift 4-speed cutter transmission.Other features include true 4-wheel drive that can steer in four different modes and a hydraulically-controlled suspension. Cutting depths are up to 20 inches and cutting widths up to 100 inches. The variable geometry cutter housing features hydraulically-adjustable front and rear doors. An optional automated water/emulsion system with a 500 GPS capacity and fully automated controls is available for this reclaimer. To prevent engine overheating, Roadtec included an on-demand cooling feature, which pulls air from the top of the engine compartment, reducing the amount of dust and debris entering the engine compartment. www.roadtec.com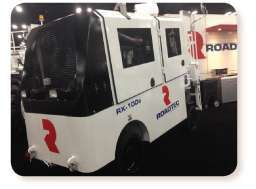 Roadtec
RX-100e milling machine
World of Asphalt served as the public's introduction to a new Roadtec planer the RX-100e utility milling machine. For years the company watched as loyal customers bought this size of milling machine from its competitors. Company president Jeff Richmond says the company decided it was done watching. "If they needed a little 12- or 20-inch trimmer like this machine, they had no recourse but to go to a competitor," he says. "And the old adage about if you let the camel's nose in the tent, pretty soon he thinks he owns the tent?" www.roadtec.com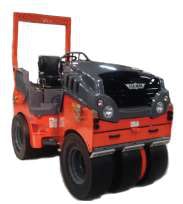 Hamm
Rolling rubber
The Wirtgen Group brought its potent new Hamm HD 14TT compact pneumatic roller to the World of Asphalt 2013 show in San Antonio in March. Tim Kowalski, applications support manager for Wirtgen's Hamm rollers says the company has seen success with this machine, which is already in service, expecially wih municipalties and samaller contractors who work jobs such as driveways and parking lots. The HD 14 TT is rubber tired front and back. Hamm introduced the roller late last year and it made its debut for the new paving season at the show. www.hammcompactors.com
Peterbilt
New vocational Pete
Peterbilt unveiled a new vocational truck, the Model 567, at the Mid-America Trucking Show in Louisville, Ky. The truck features:
• Steel upper A-pillars and rear corner reinforcements.
• A Metton hood that absorbs many impacts.
• A hood pivot system that directs energy around the cooling module in the event of an impact.
• Chassis design to improve maneuverability for congested worksites.
• Routing improvements to the chassis system that include new air and fuel hard lines and the separation of key air, fuel, diesel exhaust fluid and electrical systems routings to simplify service work.
Cummins
Natural gas engine certified
In the natural gas market, Cummins has received EPA certification on the long-awaited ISX12 G natural gas engine. The company expects sales of the Cummins-Westport ISL G mid-range natural gas engine to eclipse 5,000 units in 2013. Engine braking, as well as automatic and manual transmission compatibility, will be available. Both the ISX12 G and the ISL G utilize Cummins Westport's proprietary spark-ignited combustion technology with Stoichiometric cooled Exhaust Gas Recirculation (SEGR) and a maintenance-free Three-Way Catalyst (TWC), and fuel can be stored on the vehicle in compressed natural gas, liquefied natural gas or biomethane forms.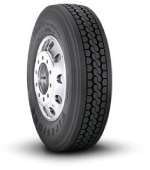 Firestone
Four introductions
Firestone introduced four new truck tires at the Mid-America Trucking Show. FS591 Steer Radial: The FS591 has a wide, deep tread that helps extend the life of tire and avoid irregular wear, with low rolling resistance. FD691 Drive Radial: The FD691 offers a high-rigidity tread pattern for even tire wear, increase tread life and lower rolling resistance, a flow-through design that pushes water away to help tire traction. FT491 All-Position Radial: The FT491 has a sidewall protector ribs to reduce damage from abrasion-producing objects like curbs. The FS820 prevents stone retention to help improve tire life and retreadability. It has an all-steel casing and cap/base compounding to battle cuts and boost durability. www.firestonetrucktires.com