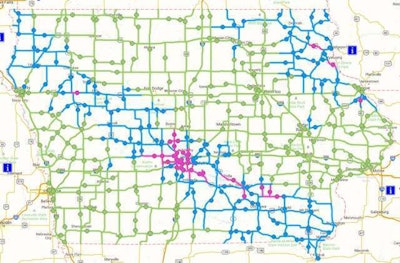 The Iowa Department of Transportation has made some color changes to its 511 road conditions map.
Purple will now mean that "travel is not advised" and light blue will be used to show "wet" conditions. Below is what all of the colors will mean on the Iowa conditions map.
Dry = green.
Wet = light blue.
Partially covered = blue.
Completely covered = pink.
Travel not advised = purple.
Closed = red.
"Each year we try to improve the system by listening to what our customers tell us and making adjustments. Last year there was some confusion about the 'travel not advised' statement. This year we are dedicating a road color (purple) on the map to 'travel not advised' to assure people can clearly see the seriousness of the situation on the roadway. Customers also wanted to know how much snow and ice was on the pavement. That is now included in the comments when a road is designated as 'travel not advised,'" said Sinclair Stolle, Iowa DOT 511 administrator.