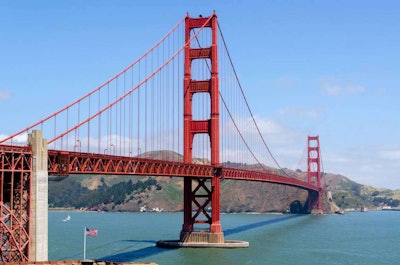 San Fransisco's Golden Gate Bridge has switched to an all-electronic system, the Los Angeles Times reports. The new system began Wednesday.
The system captures license plate numbers as drivers continue through the toll booth. Drivers receive an invoice for the $6 toll via mail.
The Golden Gate Bridge Highway and Transportation District urged motorists to continue through the toll plaza without stopping. The agency sent a press release stating, "DO NOT PANIC, DO NOT FRET, DO NOT STOP — YOU WILL GET A TOLL INVOICE (with no added fees) MAILED to the registered owner of the vehicle."
The new toll system will not affect drivers with FasTrak passes; officials estimate about 70 percent of vehicles passing over the bridge to have FasTrak accounts.
According to another press release from Golden Gate Bridge Highway and Transportation District, more than half of the 28 full-time toll collectors have retired or found other positions within the agency. The agency will provide separation packages to collectors who are not reassigned.