Live coverage from the NTEA: The Work Truck Show in Indianapolis
INDIANAPOLIS–How about a "little" news from the Work Truck Show? Or, rather, as "little" as things can get when you're talking about Mack Trucks.
The venerable manufacturer chose the Work Truck Show here in Indianapolis to show a new, medium-duty Granite that is optimized for municipalities, landscapers and small contractors.
C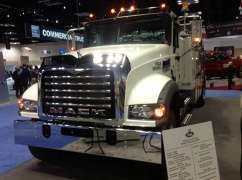 urtiss Dorwart, vocational product manger for Mack, says the idea is to offer Granite toughness to municipalities and smaller contractors who don't need a full size Granite or have tight budgets that won't allow them to purchase a Class 8 work truck.
The Mack Medium-Duty Granite can be spec'd as a Class 7 truck or a Baby 8. Both versions feature a 4×2 drivetrain and a 9-liter, Cummins ISX9 rated at 345 horsepower. This power is harnessed by an Allison 3000 automatic transmission. The truck will be offered in either set-forward or set-back axle configurations.
Dortwart says a clean back-of-cab design helps the Mack Medium Duty 4×2 accommodate a wide variety of body options, including those required for utility, dump and municipal applications. The short bumper-to-tire distance offers front-end swing clearance and superior wheel cut – key for navigating tight turns in municipalities and construction sites.
The galvanized steel cab of the MHD 4×2 is mounted on airbags and shocks so the driver stays comfortable during the workday. Mack's Cornerstone chassis, built of high-strength steel alloy for a stronger, lighter frame, is offered in four frame rail thicknesses ranging from 7 mm to 11.1 mm.
Jack Roberts is executive editor of truck/truck equipment for Randall-Reilly, the parent company of Better Roads.