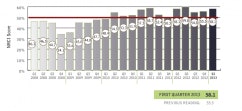 The FMI Nonresidential Construction index rose to 58.1 in the first quarter of 2013, up 2.6 points from Q4 2012′s 55.6. The index sits at the same mark of 58.1 as one year ago, but up greatly from the 35.6 in Q1 2011, reports Wayne Grayson, online managing editor for Equipment World, sister publication to Better Roads.
With the fiscal cliff and great political uncertainty of 2012 behind it, FMI sees nonresidential construction benefitting from overall economic improvement, but still facing several global issues such as national debt levels, Grayson reports.
However, according to the FMI report, 49 percent panelists surveyed by the management consultant and investment banking provider said they expect the construction industry to grow somewhere in the 0.5 percent to 2.5 percent range. And 19 percent expect the industry to have even larger growth, Grayson reports.
For the full report on our sister publication site, Equipment World, click here.
For the full FMI report, click here.