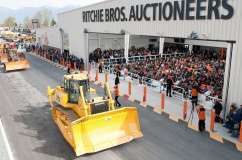 Vancouver, B.C.-based Ritchie Bros. Auctioneers has gone online with its equipment sales.
Already a major player in equipment sales as the world's largest seller of used industrial equipment as an auctioneer, the company on Jan. 22 announced the initial release Ritchie Bros EquipmentOne, a new online equipment marketplace for the company.
With the initial rollout, buyers and sellers can use Ritchie Bros. EquipmentOne to negotiate, complete and settle their transactions with the core marketplace functionality that has been released.
Ritchie Bros. says it will make "enhancements" on an ongoing bases and is planning its next major release and full commercial launch for the second quarter of 2013.
Ritchie Bros. EquipmentOne was developed by building on the AssetNation platform, an online marketplace and platform for surplus and salvage assets, which Ritchie Bros. acquired in May 2012. With this initial launch, AssetNation's large corporate customers are now selling their equipment and materials on Ritchie Bros. EquipmentOne.
The global used equipment market is estimated be in in excess of $200 billion in annual transaction value with about half of all equipment transactions taking place on a "private treaty basis," according to Ritchie Bros. Auctioneers CEO Peter Blake.