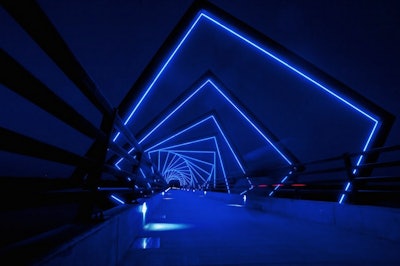 Check out this incredible trestle bridge in Iowa. It's part of the 25-mile High Trestle Trail in Madrid, which opened in 2011.
It's 13-stories high and nearly a half-mile long with gorgeous views of the Des Moines River Valley. However, nothing may be as gorgeous to look at than the bridge itself.
The High Trestle Trail Bridge was originally built in the 1970s as a railroad bridge, but it has undergone quite the transformation in recent years. The bridge decking incorporates a decorative structure that represents the view through a mine shaft, to honor Italian immigrants who worked in nearby mines.
The bridge's mesmerizing design includes decorative lighting that remains on until midnight every day.
Would you like to see a certain bridge or highway featured in the Better Roads section? Email [email protected].