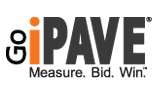 GIS Dynamics, parent company of Go iPave, has announced the launch of its Asphalt Contractor Success Center. The Success Center includes a collection of checklists, worksheets, data and information designed to help pavement maintenance contractors excel in different areas of business.
"Most of the resources in our Asphalt Contractor Success Center were developed with guidance from our CEO Mike Rorie," said Alle Fairhurst, marketing manager at GIS Dynamics. "He started a landscape contracting business from the ground up and ran it for over thirty years. His vast business knowledge, combined with insights and requests from our customers helped us develop the resources within our success center."
Items in the Success Center include a benchmarking checklist designed to help contractors identify, monitor and measure key performance indicators at their companies, an 80/20 systems audit checklist so contractors can develop efficient systems for their company, and a training program worksheet to help contractors prepare and implement a formal training program at their company.
"If you are a contractor seeking success as I was when I was running my company, then take my word benchmarking, training, auditing, and working on your business are key components to your success," said Mike Rorie, CEO of GIS Dynamics. "We've made simple worksheets and checklists available that include ideas that took me decades to learn and understand. I hope these resources can shorten the learning curve for those who are looking to get ahead."
Everything within the Asphalt Contractor Success Center is free and available for download on www.GoiPave.com.