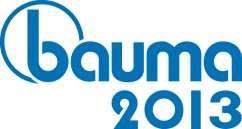 It can be disconcerting to see a construction worker approach a concrete wall with a chain saw in his hand.
Stihl is previewing a concrete cutter at the pre-bauma media days here in Munich that is especially effective on for wet cutting concrete walls, natural stone or pipes. Angles and corners are a specialty.
The company says the fact that it alone makes its own concrete cutting chains in this field allows it to integrate all aspects of manufacturing from design forward into a single unit, and the GS461 is the new model that will be here in April.
Stihl will also show a new cut-off saw with electronic fuel injection. This is the TS480i that follows the innovative TS500i. The two-stroke saw uses an injection system to automatically ensure high-lugging power and "electronic characteristic mapping" to ensure best fuel consumption and emissions. The company will also exhibit a new high-performance cordless chain saw, the MSA 200 C-BQ which it informally calls "a real chain saw."
The saw features 30 percent more cutting power that comes from improved battery technology (it uses the 36 V Stihl AP 180 lithium ion battery), 15 percent more motor speed, 20 percent higher torque and it is labeled as a "quiet" machine." –John Latta, Editor-in-Chief, Better Roads, reporting live from Munich, Germany, where, yes, yes, the sun has just come out (a little)