By Amy Materson
MULTI-USE MULCHER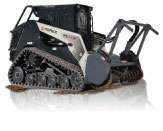 Clear brush and mulch trees up to eight inches in diameter with the Terex G-Series mulcher attachment specifically designed for the Terex PT-100G Forestry compact track loader. The drum style mulcher has 36 double twin carbine teeth and mulches a 61-inch-wide path, as well as processing 12-inch-diameter stumps to ground level. A two-stage cutting chamber allows the operator to produce fine mulch with low horsepower, and an optional primary stage shear bar is available for extra fine mulch. The counter teeth have staggered pattern and angles to ensure aggressive feeding action and minimal jamming. The G-Series' piston motor increases the hydraulic power efficiency to 97 percent, and a choice of fixed or variable displacement motor.
Visit EquipmentWorld.com/info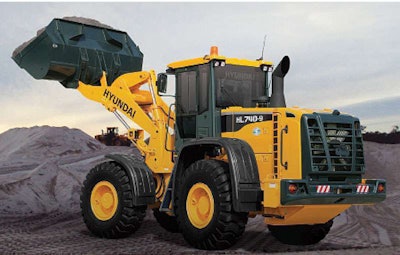 APPLICATION-SPECIFIC OPTIONS
Perform a range of applications including moving gravel, sand, stone and pipe with Hyundai's HL740-9 and HL757-9 wheel loaders, which offer fast cycle times and precise operation. The 9 series models deliver 145 horsepower and 173 horsepower, respectively, and have Cummins Tier 3 QSB6.7 engines with three engine modes. Newly designed cabs include 5.7-inch-wide color LCD monitors on adjustable swivel mounts, automatic AC/heat, heated rear view mirrors, hands

free phone, AM/FM radio, MP3 interface and USB ports. The Tool Master (TM) model is designed for jobs requiring special attachments, and the Extend Reach (XTD) model handles projects requiring a higher dump height.
QUICK SPECS

Visit

CONSISTENT CUTS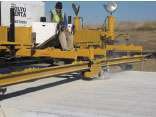 Experience high production in an automatic concrete sawing system with HEM's MagnaCut, which offers both longitudinal and transverse saw cuts, and allows just the blade to touch the slab. The MagnaCut features self-contained slurry collection, is capable of sawing two transverse joints at a time and has a hydraulic sliding frame for fast width changes. The MagnaCut delivers a consistent cut depth and saws crowned slabs and curbs.
Visit EquipmentWorld.com/info
VERSATILE VACUUMS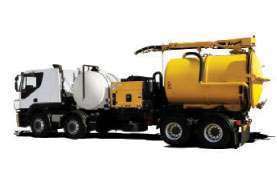 Perform both wet and dry vacuum applications with McLaughlin's Mega Vac line of truck-mounted vacuum excavation systems, available with tank capacities ranging from 1,600 to 3,000 gallons, and a choice of either a 67-horsepower Kubota diesel engine with a 1,025-cfm blower or a 99-horsepower Kubota engine with a 1,200-cfm blower. Both power options produce 15 inches of mercury; however, a deep vacuum power plant option is available with the 99-horsepower engine, producing 24 inches of mercury. The Mega Vacs have a single skid design for easy installation and standard hydraulic lift cylinders for efficient dumping.
Visit EquipmentWorld.com/info
USER-FRIENDLY FEATURES
Complete concrete repair projects with Hilti's TE 500-AVR demolition hammer, which weighs just 12.6 pounds and delivers 5.5 foot-pounds of impact energy. The hammer has an Active Vibration Reduction system with a decoupled handle to minimize vibration. Hilti's Active Cooling System extends tool life by cooling the motor, electronics and hammering mechanism. Additional features include a constant on switch and full radial and axial adjustment of the side handle.
Visit EquipmentWorld.com/info
29-POUND WELDER
Complete MIG, Stick and TIG welding construction jobs, light fabrication, maintenance and repair with Miller Electric's Multimatic 200. The compact portable welder weighs just 29 pounds and connects to 120- and 230-volt power receptacles. The Multimatic 200 has an Auto-Set Elite feature that enables the operator to set welding parameters and then fine-tune them for each application, offers positive arc starts and delivers a stable arc with minimal spatter when MIG welding with mixed gases and with CO2. The system is compatible with a range of accessories.
Visit EquipmentWorld.com/info
DEEP TREAD TIRE
Extend tire life in spread axle trailer applications with Goodyear's G619 RST, which features a four-belt casing and 18/32-inch tread depth. Engineered to resist scrubbing and curb impact, the G619 RST has a rib design that minimizes tread tear and a high scrub compound that reduces curb damage. The tire is available in several sizes in Load Range G.
Visit EquipmentWorld.com/info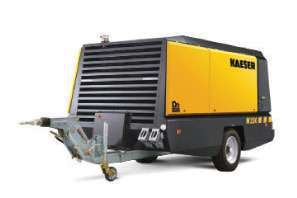 COMPACT COMPRESSOR
Kaeser's Mobilair M250 portable compressor delivers 900 cfm at 125 psig. The 288-horsepower compressor is compact and weighs less than 7,000 pounds. The M250 has a Mercedes-Benz diesel engine with an SCR catalytic converter that complies with Tier 4 emissions standards. An anti-frost valve prevents tool freeze-up and a large fuel tank extends run time.
Visit EquipmentWorld.com/info
MEET PAYLOAD RESTRICTIONS
Choose from four-, six- or seven-axle configurations with the Ox SuperDump from TBEI, which allows weight distribution over a longer area to meet payload restrictions. The multiple axle configurations allow increasing payloads up to 25 tons and 80,000 GVWR in most states. The SuperDump has an air suspension trailing axle that ensures a smooth ride while boosting stability and handling. Available options include retractable mud flaps, onboard weight scales, non-stick liners, tarp systems and aluminum or poly fenders.
Visit EquipmentWorld.com/info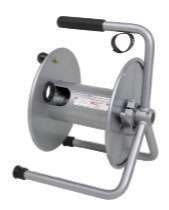 CABLE CONTROL
Easily manage long lengths of cable with Hannay Reels' Model C16-10-11DE, which is both lightweight and durable. The compact, portable unit features an adjustable cam-lock drag device to brake the reel. The C16-10-11-DE also has a crank handle permanently attached to the disc.
Visit EquipmentWorld.com/info
SMOOTH LEVELING
Grouser Products' V3 FlexPlane attaches to any skid steer and features a self-adjusting blade for a variety of jobs. The blade rotates to contour to the ground, adjusting for uneven ground pressure. The two double beveled hardened cutting edges provide smooth leveling in both forward and reverse, and a Cross Crumbler Beam handles challenging terrain. Stationary rear side plates enable the attachment to move large amounts of dirt, and a universal quick-attach system attaches to the carrier in minutes.
Visit EquipmentWorld.com/info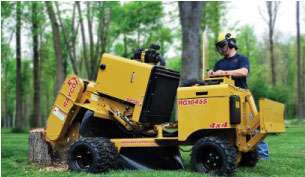 CAPABLE CUTTER
Rayco's RG1645S self-propelled stump cutter, powered by a 44-horsepower Kubota turbo diesel engine, offers a heavier cutter wheel and improved cutting torque when compared to the previous model, the RG1645. The RG1645S has a swing-out operator control station for maximum visibility while protecting the operator from chips and debris. The stump cutter has wide tires to improve flotation and traction, and the outer dual wheels can be removed to allow the unit to fit through 36-inch gates.
Visit EquipmentWorld.com/info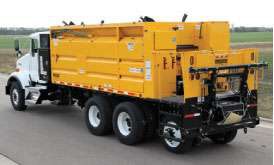 ROAD WARRIOR
Increase production capability with Bergkamp's M212 truck-mounted slurry seal and microsurfacing paver, which can carry 691 gallons of asphalt emulsion, 691 gallons of water and 12 cubic yards of aggregate in a level struck load. The M212 also has a 65-gallon stainless steel additive tank. The M212's pugmill, conveyor and liquid material tanks can be removed for cleaning, and tanks are bolted in to improve durability. A 99-horsepower Cummins diesel engine powers the unit. A full-width working platform enables operators to see both sides of the unit, the spreader box and the material being placed. A remote sideshift control allows spreader box control from the ground.
Visit EquipmentWorld.com/info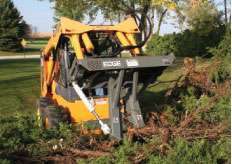 POWERFUL PULLER
Remove material including rebar, trees and shrubs with the Edge Tree Puller/Grabbing Tool from CEAttachments, designed to fit skid-steer loaders. The standard flow attachment has 27-inch-long jaws that open to 12 inches to grab material at the base and pull cleanly from the ground. The Tree Puller/Grabbing Tool measures 35 inches long, 47.5 inches wide and 20 inches high. Three welded brackets secure the hydraulic hoses away from the jaws, and hoses and flat face couplers are included with the attachment.
Visit EquipmentWorld.com/info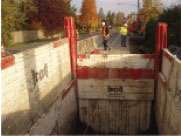 NO NEED FOR HAMMERS
Shore projects from simple pits to elaborate excavations with Icon's Slide Rail Systems, useful when dealing with utility, overhead clearance or soil problems. Manufactured from high yield Grade 50 steel, the system is composed of lineal panels, rails or posts and bracing, in a choice of single, double or triple rail designs with either roller rail frames or fixed position braces. The system's dig-and-push installation method eliminates the need for vibratory hammers.
Visit EquipmentWorld.com/info