IMT revamps service trucks around new crane design
By Tom Jackson
The driver of service and crane truck manufacturer IMT's intros at CONEXPO-CON/AGG was its Penta Boom, which has a flat top and half-hex cross section that eliminates stress concentrations. The five-sided boom offers 30 feet of reach with controlled tracking at long distances and increased strength and durability.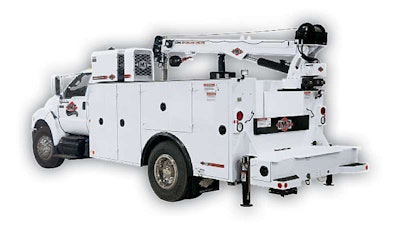 The cranes have 10 degrees of negative boom angle for easier reach from ground level, a fully proportional pistol grip radio remote control, LED overload indicator lights on the remote control handle, and a flip sheave boom tip to gain height in close quarters. To increase productivity, a fast moving planetary winch loads and unloads cargo quickly and a new hook stow enables you to secure the boom hook in less time than traditional designs.
The Dominator I, II and IV mechanics truck bodies were redesigned to be able to handle the increased capacity of the cranes. The cranes' model numbers: 7500, 8600, 9500, 10000, and 14000, indicate the number of pounds each can lift with the Penta-Boom. A new stabilizer at the right front of the trucks increases stability enabling the crane to perform lifts in the load area at full capacity according to ASME standards (118 percent of rated load). The energy absorbing boom stow protects the top of the body compartments.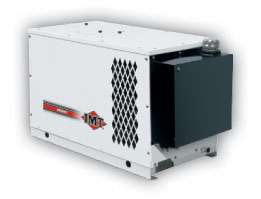 IMT also added a new truck to the lineup. The Dominator III mechanics truck and 12000 crane fill in a niche between the Dominator II with its 10,000 pound crane and the Dominator IV with its 14,000 pound crane.
In the new trucks' enclosed cabinets, high-intensity LED lighting eliminates night time shadows when you're rummaging around for supplies, tools or hardware. And a multiplex electrical system gives you programmable logic for increased reliability.
A new power pack has also been added to the Dominator fleet. The 35DHP is a diesel driven, 35-horsepower auxiliary hydraulic power source. It enables you to operate your hydraulic crane or compressor with the truck engine turned off. This saves fuel, cuts emissions and helps you comply with anti-idling regulations. It also reduces maintenance and eliminates the need for a PTO. The 35DHP runs off the host vehicle's fuel supply (although future versions will come with an independent fuel tank) and can be retrofitting to any mechanics truck, new or used, regardless of manufacturer.