Air Compressors
By Lauren Heartsill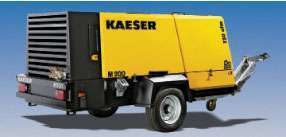 PORTABLE CONTROL
The Kaeser Compressor M200 portable compressor features an electronic control system that limits emissions, optimizes fuel consumption and improves compressor efficiency.
• Powered by a 186-horsepower Caterpillar diesel engine
• Provides 750 cubic feet per minute at 100 pounds per square inch gauge
• Features a soundproof enclosure.
Visit EquipmentWorld.com/info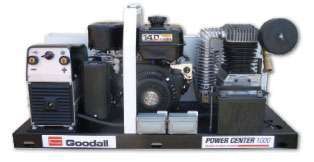 COMBINED POWER
Goodall Manufacturing's Power Center 1000 is a 3-in-1 power unit that offers an integrated welder and generator.
• Efficient for light to medium duty applications
• Has 170 amps of direct current stick welding power
• Provides 18 cubic feet per minute of air power.
Visit EquipmentWorld.com/info
Know what to ask when renting air compressors
How many cubic feet per minute does it produce?

Generally, the best compressor for the job is one that is rated with slightly more cubic feet per minute than what the tool you are using specifies. For example, an air sander that requires 4 cubic feet per minute will work best with a compressor that is rated at 6 cubic feet per minute. This is because reciprocating piston compressors have a maximum duty cycle of 75 to 80 percent.
What type of power is needed?
Electric units are most popular for indoor applications or jobsites with nearby electrical power sources. Otherwise, engine-powered units can be used outdoors where carbon monoxide fumes are allowed to diffuse. Gas-engine compressors are much more common than diesel units, which are mostly reserved for heavy-duty construction tools.
How does the unit work?
Although manufacturers have tried to simplify the designs of air compressors, it is not uncommon for end-users to do something incorrectly when using them. Don't be afraid to ask how a feature on the air compressor works.
Source: Jenny Products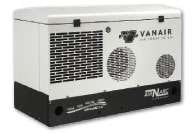 MOUNTED AIR
Vanair's self-contained Air N Arc 300 is equipped with a two-generator system.
• Weighs less than 700 pounds
• Can be mounted on a side-pack or behind the cab
• Includes auto throttle control.
Visit EquipmentWorld.com/info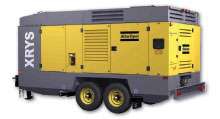 XPERT DELIVERY
The Atlas Copco DrillAir XRYS 1220 CD7 and XRYS 1260 CD7 offer air delivery of 1,165 to 1,207 cubic feet per minute at 510 pounds per square inch.
• XRYS 1260 features a remote control feature and the DrillAir Xpert regulating system
• Uses a Caterpillar C18 Acert T3 diesel engine with 575 horsepower
• Available in skid-mounted, support-mounted, high-speed tandem or wagon models.
Visit EquipmentWorld.com/info
ENCLOSED COMPONENTS
The Sullair 375H AF portable air compressor can be used for jobs such as media blasting and painting, protective coating applications and process equipment.
• Unit is self-contained with all components enclosed within the canopy
• Available with either a Caterpillar or John Deere 4-cylinder diesel engine
• Features large, padlockable service doors.
Visit EquipmentWorld.com/info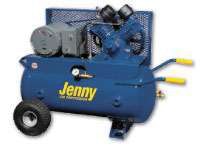 ELECTRIC AIR
Jenny Products' W5B-30P wheeled-portable air compressor features a four-cylinder, two-stage pump with long piston strokes.
• Includes a 30-gallon air tank
• Delivers 18.1 cubic feet per minute at 100 pounds per square inch
• Pump is belt-driven by a 5-horsepower electric motor.
Visit EquipmentWorld.com/info
REDUCED NOISE
Doosan Infracore Portable Power's Platinum Series P185's noise level has been reduced by 50 percent from the previous model.
• Powered by a 48-horsepower John Deere or Yanmar diesel engine
• Engineered with a remote separator element to prevent spillage during oil changes
• Features an electronic diagnostic module.
Visit EquipmentWorld.com/info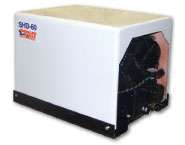 COMMON CONNECTIONS
Experience quick change-outs from one compressor to another with Plug-N-Play compressors from American Eagle.
• Similar hydraulic flow, common mounting base plates and compatible hydraulic connections
• Eliminates time and expense needed for changing out PTOs and pumps
• Six models available in 11-, 12- and 18-gpm models.
Visit EquipmentWorld.com/info