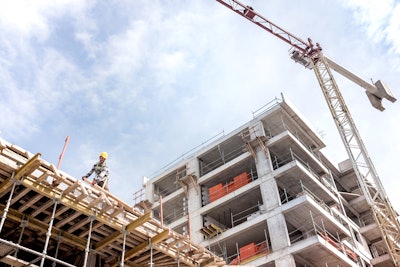 Getty Images
Over the past 12 months, changes in total construction starts have been essentially flat and will remain that way through the first quarter of 2024, according to Richard Branch, Dodge Construction Network chief economist.
Differences in construction starts, however, are more pronounced when looking at individual market segments.
Nonbuilding starts were 22% higher, and nonresidential building starts gained 3%. Conversely, on a 12-month rolling basis, residential starts posted a 16% decline.
"It's really interesting to see this bifurcation in the market," Branch said, noting that publicly funded projects like infrastructure, manufacturing, education, and healthcare are doing reasonably well. "It's that private side of the market, whether that's residential or the income property types like office and warehouse, that are doing especially weak over the last 12 months."
In the current economic climate, interest rates remain high, and Branch forecasts that will likely remain the case until at least the summer of 2024 when he believes the Federal Reserve will start to cut rates.
"Credit standards continue to be tight and there are of course a lot of externalities facing the construction market," he said.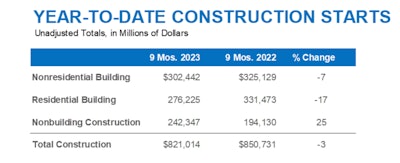 There are a lot of risks whether it's higher energy prices, enhanced geopolitical risk, or enhanced domestic risk surrounding Congress getting the appropriation bills done on time for the current fiscal year.
"A return to broad-based growth in construction starts is still some time away," Branch suggested.
Overall, he is projecting construction starts to remain flat through the end of 2023 and even into the first quarter of 2024.
"We don't expect a lot of positive momentum in the first quarter of next year," Branch said. "Once we get into the summer of 2024, we think that that's where we'll start to build on levels, and we'll start to see some more organic growth develop in the construction sector."
Nonbuilding
The Dodge report indicates that nonbuilding construction starts fell 9% in September to a seasonally adjusted annual rate of $345 billion.
The bulk of the loss was environmental public works starts falling 29% and highway and bridge starts dropping 15%.
However, not all sectors fell. Miscellaneous nonbuilding starts were up 4%, and utility/gas plant starts gained 14%.
Year-to-date through September, nonbuilding starts have gained 25%.
According to the Dodge report, utility/gas plants rose 58%, and miscellaneous nonbuilding starts were up 23%, highway and bridge starts gained 13%, and environmental public works were up 16%.
On a year-over-year basis, total nonbuilding starts were 22% higher than that of September 2022. Over that same 12-month period, utility/gas plant and miscellaneous nonbuilding starts rose 35% and 22%, respectively. Highway and bridge start, in addition to environmental public works starts, were both up 18% on a 12-month rolling sum basis.
In September the $4.5 billion Sun Zia transmission line across Arizona and New Mexico, the $525 million fourth phase of the Cedar Springs wind farm in Converse County, Wyoming, and the $485 million Prospect Lake Clear Water Center in Fort Lauderdale, Florida each got underway.
Nonresidential
The Dodge report indicates that nonresidential building starts fell 4% to a seasonally adjusted annual rate of $459 billion.
Classified as office structure in the Dodge database, commercial starts rose 6% due to data center work. The remaining segments all declined including institutional at 8% and manufacturing dropping 13%.
Year-to-date through September, total nonresidential starts are down 7% from 2022.
According to the report, institutional starts gained 5%, while commercial and manufacturing starts have fallen 6% and 31%, respectively.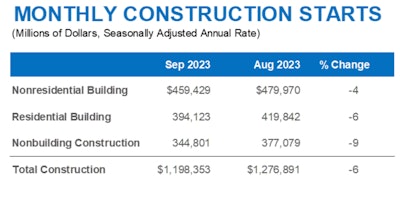 On a 12-month rolling analysis ending in September 2023, total nonresidential building starts were 3% higher than that ending September 2022.
While down on a month-to-month basis, commercial starts have gained 4%, institutional starts are up 8% and manufacturing is 8% lower.
Dodge reported the $2.5 billion Hyundai/SK EV battery plant in Cartersville, Georgia, a $1.1 billion prison in Elmore, Alabama, and the $1 billion Microsoft data center in Mount Pleasant, Wisconsin as some of the largest nonresidential building projects to break ground in September.
Residential
Residential building starts fell 6% in September to a seasonally adjusted annual rate of $394 billion. Single-family starts gained 1%, while multifamily starts lost 17%.
On a year-over-year analysis, residential starts were down 17% compared to 2022.
According to. the Dodge Network report, single-family starts were 19% lower, and multifamily starts were down 12% on a rolling 12-month basis.
Top-end multifamily structures breaking ground in September included the
The largest multifamily structures to break ground in September were the $385 million Phase One of the South Pier Residential Towers in Tempe, Arizona, the $275 million first phase of the Casa Bella Condominiums in Miami, Florida, and the $260 million Chapel Block mixed-use development in Philadelphia, Pennsylvania.