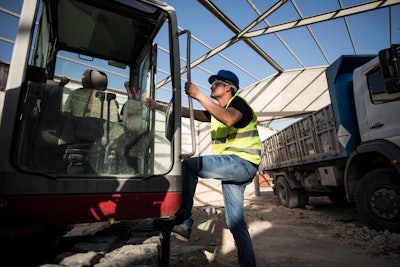 Getty Images
Unemployment rates remain at historically low levels within the construction industry as 11,000 jobs were added in September.
Analysis of the data released by the Bureau of Labor Statistics by the Associated Builders and Contractorsand Associated General Contractors of America suggests that construction firms continue to struggle to find skilled laborers to continue working.
Construction employment in September totaled 8,014,000, seasonally adjusted, with a gain of 11,000 or 0.1% from August.
The industry has added 217,000 jobs (2.8%) during the past 12 months.
A separate government report indicated that there were 360,00 job openings in construction at the end of August. Association analysis showed that the number of openings decreased by 3,000 the previous month but was up 5,000 from the same time in 2022.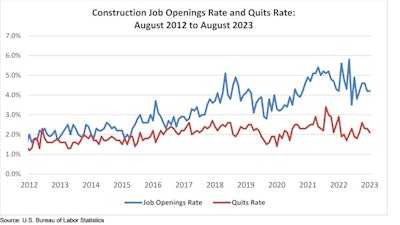 "The number of open, unfilled construction positions declined in August but remains higher than both one year ago and the pre-pandemic level," said ABC Chief Economist Anirban Basu. "Despite the year-over-year increase, the rate at which construction workers are quitting has slowed dramatically as labor constraints ease in other industries that compete for the same workers."
Most contractors continue to indicate an intention to expand sales and staffing levels over the next six months.
"Construction firms have plenty of projects, but a dip in nonresidential employment last month shows how hard it has been to find enough skilled workers," said Ken Simonson, AGC's chief economist. "Job openings remain stubbornly high, even though the industry has been raising hourly pay at an elevated rate."
Average hourly earnings for production and nonsupervisory employees in construction, covering most onsite craft workers as well as many office workers, climbed by 5.5% over the year to $34.54 per hour.
Also, construction firms in August provided a wage "premium" of nearly 19% compared to the average hourly earnings for all private-sector production employees.
Basu suggests that hiring would continue to accelerate if not for the skills and labor shortage.
"America desperately needs more people to enter the skilled trades as it seeks to rebuild its supply chains and improve its built environment," he noted.
The construction unemployment rate decreased slightly to 3.8%, while unemployment across all industries remained unchanged at 3.8% last month. At 3.8%, the unemployment rate for construction marked one of the lowest September unemployment rates in the 24-year history of the data being collected.
Per analysis of the September jobs data, residential building, and specialty trade contractors added 12,600 employees in September and 55,300 (1.7&) over 12 months.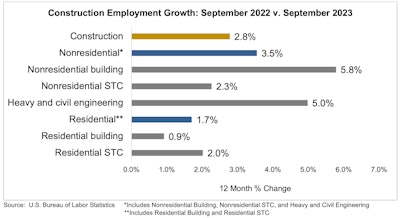 While there was an overall increase in construction jobs in September, employment at nonresidential construction firms, which includes nonresidential building and specialty trade contractors along with heavy and civil engineering construction firms—declined by 1,300 positions for the month but increased by 161,600 (3.5%) since September 2022.
As presented, nonresidential specialty trade lost 3,300 positions, while nonresidential building lost 200 jobs. Heavy and civil engineering added 2,200 jobs.
Basu said it appears the construction labor market is poised to tighten further during the months ahead, despite the Federal Reserve's efforts at curbing inflation and slowing economic growth.
"Despite declining last month, America's nonresidential construction segment has still added jobs at a faster rate than the broader economy over the past year," he said. "While a meaningful share of that hiring relates to infrastructure and large-scale manufacturing projects, several other subsegments, such as data centers and health care, enter the fourth quarter with momentum."