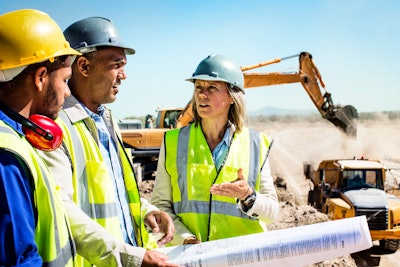 Getty Images
More than two-thirds of applicants for open construction jobs lack the necessary skills, according to a recent survey by the Associated General Contractors and Autodesk.
Whether it's building construction, highway and transportation projects, federal and heavy work, or utility infrastructure, the problem remains the same. Contractors that use only union craft labor and firms that operate as open-shop employers, as well as firms with $50 million or less in annual revenue and those with more than $500 million in revenue, are all facing labor shortages.
A total of 85% of the surveyed firms reported they have open positions they are trying to fill, and of those, 88% are having difficulty filling at least some of those positions, particularly the craft workforce that performs the bulk of the work.
AGC's survey of more than 1,400 construction firms, both open and union shop, was conducted in late July and early August.
Workforce shortages are only adding to the impacts of supply chain disruptions that have made it difficult for construction companies to get materials delivered on time and that are driving up the cost of those materials.
While these shortages have recently shown signs of abating, 65% of firms report projects they work on have been delayed because of supply challenges and 61% have been delayed because of labor shortages.
Half the respondents report owners canceled, postponed, or scaled back projects due to increasing costs. Meanwhile, 22% of firms reported projects were impacted due to lengthening or uncertain completion times.
Many construction firms are taking steps to cope with and try to overcome workforce shortages. Eighty-one percent of firms have raised base pay rates for their workers during the past year.
In addition to raising pay, 44% are providing incentives and bonuses, and 26% have improved their benefits packages.
"The biggest takeaway from this year's survey is how much the nation is failing to prepare future workers for high-paying careers in fields like construction," said Ken Simonson, AGC's chief economist. "It is time to rethink the way the nation educates and prepares workers."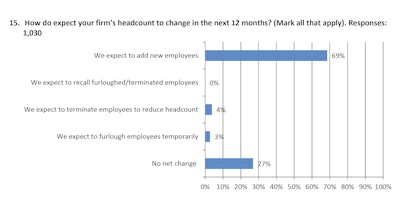 Skills gap from school to jobsite
Bill Ryan, workforce development and education coordinator for Dick Anderson Construction in Butte, Montana, has been in construction for nearly 28 years, the majority of which has been spent on the education side of the industry in teaching two- and four-year construction programs.
"There's a desperate need for people to pass on knowledge to our skilled craftspeople," Ryan said.
Having come up himself through an apprenticeship program after high school rather than college, he is a big supporter of apprenticeship programs as being part of the workforce solution.
His role with Dick Anderson Construction is to provide education to all the employees, including pre-apprenticeship and apprenticeship opportunities.
Over the past two years, after changing the apprenticeship model program, the company's retention rate in its program went from 20% to 80%.
"What we're finding is that those apprentices who complete that four-year apprenticeship, they're moving through the ranks quickly," Ryan said. "They're moving up into leadership positions, sooner and faster than most of our other employees who aren't taking the apprenticeships."
The company also offers opportunities through high school technical education programs to have students come to jobsites and be introduced in a hands-on fashion to various trades.
"If we're helping our trade partners increase their workforce, and then they have the manpower to help us complete our jobs," Ryan said. "Hopefully, over time, this will become reciprocal, they've got somebody working for them, that sees what we do and says, I think I want to try that. And they'll bring them over to us."
On top of lacking skill, one-third of the firms reported their candidates are unable to pass a drug test, most of which is due to marijuana.
Current tests for marijuana only indicate the presence of THC in the system and do not indicate impairment. The drug could have been used weeks prior and still, the user would not pass a "drug" test.
Some kind of legislation or updated test to get around this issue may further open the door to more workers.

Slacker generation or not?
Hal Fuglevand, the vice president of operations support for Knife River Construction in Billings, Montana, continues to paint a bleak picture of the workforce challenges.
"Money doesn't seem to be the driving factor," he said.
Talking to general managers, they talk about people who are hired and how it is a continuous revolving door.
"People just won't show up," he said. For a concrete contractor looking to schedule a pour in the morning, they need 10 people to handle the job. When three workers fail to show, what's the best response?
Fuglevand noted that the worst part is, that the next day, two of the three show up for work.
"They know they're not going to be disciplined," he said. "They are in control. It's demoralizing for the other employees, and especially for our supervisors."
Generally, it seems as though most of the able and available workforce don't want to sweat. Comments garnered from people who do quit, indicate that the work was too hard or too stressful.
"It's a huge problem," Fuglevand said.
However, Ryan suggested that is merely a generational perception. He said every "next" generation is inevitably labeled as being lazy or not wanting to work.
Rather than labels, he said, it should be more about finding their motivations. His strategies have included wage increases, improved incentives, and overtime. Ryan admits that the upcoming generation does not want to work more and instead prefers more free time.
"We have to shift the way we approach and work with the younger generation," he said. "We survived being berated, we survived being yelled at, we survived. That doesn't work with the current generation.
It's a big puzzle and we must find the right pieces and put them in the right places to motivate and find out what the motivations are, for the younger generation, because it doesn't work just to yell and scream anymore.
He admits that he hasn't figured out all their motivations but he's working on it. One of the issues is filling in the skills gap from college to jobsite.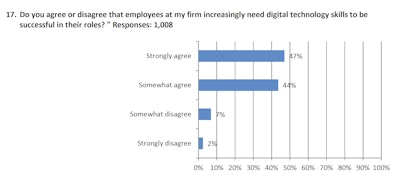 Technology divide
Technology is playing an important role in helping firms cope with labor shortages and other challenges they are facing,
"The construction labor shortage and digital skills gap are still widespread challenges in our industry," said Allison Scott, director of customer experience & industry advocacy at Autodesk. "As workers continue to retire without being replaced, construction technology will play an increasingly pivotal role in helping firms cope with a lack of skilled talent to manage their current slate of projects, in addition to other issues they are facing."
She noted that while challenges remain with labor and supply chain issues, a larger cultural shift involving digital skills, AI, and robotics may be on the horizon.
The survey reflected the significance of technology to modern construction. A total of 91% of respondents agree that their employees need to possess digital technology skills to be successful as firms adopt new labor-saving technologies.
In addition, while many applicants lack general construction skills, nearly 75% of firms say at least half of the candidates they are hiring possess the technology skills they need.
"This is what's so interesting and exciting about the opportunities a career in construction can provide," Scott said, noting that the data shows that firms should continue to upskill digital nomads—those who came up in the industry without these tools—while also attracting digital natives, those who have been using connected technology since its inception.
"It's a top priority that the industry creates programs and opportunities that attract this group and tap into talent with diverse backgrounds because people from different backgrounds willing to explore technology is what drives cultural change," she said.
Even from a recruitment standpoint, more firms are turning to technology.
Simonson said 63% of survey respondents, up from 39%in the 2022 survey, said they added online strategies, like using social media or targeted digital advertising, to connect better with younger applicants.
In addition, 41% of firms said they are boosting spending on training and professional development programs, 25% are enhancing their online and video training capabilities, and 14% are using augmented and virtual reality technology to better train workers.
This year's survey also included questions about contractors' attitudes toward the use of AI and robotics. Just under half of respondents (44%) believe that AI and robotics will positively impact construction costs by automating manual, error-prone tasks, and 41% said AI and robotics will improve the quality of construction jobs and make workers safer and more productive so they can focus less on redundant work and more on meaningful work.
"As firms adopt more digital technologies and create stronger classroom and training pathways, we'll begin to see a new generation enter the industry equipped with the tools and skills needed to tackle construction's largest challenges," Scott said.
Who are you?
"Construction as a whole, from what I have experienced is not big on advertising, anything, even our own companies, and our brand is very much who knows who and networking type of business," Kim Sargent, director of marketing for Virginia-based Branch Group. "I think we've done ourselves a disservice in the past couple of decades, hiding behind that wall because no one knows who we are."
Few signs are put up and even vehicles on jobsites are not always marked.
She pointed out that in terms of advertising, there is no one-size-fits-all messaging. An ad for a plumber position is going to have different messaging than recruitment for a heavy equipment operator or project engineer.
When advertising for jobs, Branch has different campaigns for different positions and has had greater success as a result.
"We can't gauge ourselves just to get around against construction, it's got to be everybody in our region because that's the same worker pool that we're pulling from," Sargent said. "We can't be quiet; we can't hide behind the curtain anymore. People must know who we are, that we have lots of work, and that we're here to hire them and pay them. The second part to that is we will have work to sustain them for a long time, they can have a career with us."
The Branch Group increased its overall headcount by 10% since 2021 and still are running with over 150 open positions per month.
"It's just really important to bust the myth, all those misconceptions that surround our industry," said Kenna Smith, talent acquisition manager. "We can't keep bringing them in the door, while two more go out the door."
It took time to reach the current deficit and it will take time to recover from it. Branch offers a variety of apprenticeships and is working with community college programs to assist in their offerings.
A compensation survey was conducted for analysis to make appropriate adjustments and an overall improvement of the benefits package. Though adjustments were made, it continues to come back to training.
"It's just been for us, changing the culture," Smith said. "We talk a lot about everyone owning the brand, or everyone owning retention."
In the end, it comes down to training.
"In virtually every community in this country there are open construction positions that pay better than the average job and are vital to local economic growth," he said. "The bottom line is we need to do a better job as a nation preparing future workers for the many high-paying career opportunities that exist in this and many other industries.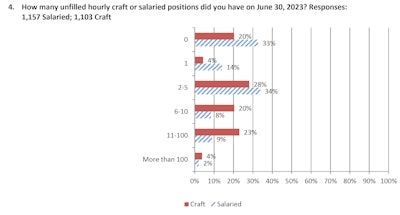 Survey says
Here are highlights from AGC's 2023 Workforce Survey of contractors:
85% of firms report that they have open positions they are trying to fill. That's down from 93% in 2022.
88% of firms are having trouble filling at least some of those positions, particularly among the craft workforce. That's down slightly from 91% in the 2022 survey.
81% of firms have raised base pay rates for their workers in the past 12 months. That's up from 73% in last year's survey.
49% of survey respondents report they've engaged with career-building programs such as high school, college, or technical school construction programs.
41% of firms are boosting spending on training and professional development programs.
44% are providing incentives and bonuses.
63% increased online recruiting, such as Instagram Live, to connect with younger applicants. That's up from about 39% in 2022.
31% used an executive search firm.
25% used a craft staffing firm.
21% used software to distribute job postings and manage applicants. That's down from 29% in 2022.
25% engaged with government workforce development or unemployment agencies to find workers.
25% are enhancing their online and video training capabilities.
26% have improved their benefits packages.
22% added or increased the use of unions, subcontractors, or specialty contractors.
14% are using augmented- and virtual-reality technology to better train workers. Last year it was 17%.
8% applied for employment-based visas, such as H-1B or H-2B.