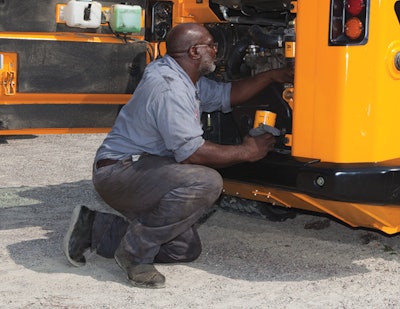 If you know your way around a heavy equipment shop and want to polish you resume a bit, the AED Foundation announced the availability of their new Diesel Equipment Technician Certification.
The certification covers six core areas: diesel engines, hydraulics, hydrostatics, electric and electronics, power trains, air conditioning and heating, and safety and administration. To qualify for the certification, applicants must pass a 160-question assessment test with a score of 70 percent or greater.
"The assessment has been developed by industry task forces with representation of technical experts from equipment dealers, equipment manufacturers and technical colleges," says Steve Johnson, vice president of AED Foundation Operations. The announcement was made Tuesday by AED senior vice president Jason Blake at the AED-EDA Workforce Development Summit in New Orleans.
The certification costs $150 for AED members,  $300 for non-members, or $85 if you have already passed the AED Foundation Technical Assessment. Detailed information on the certification process can be found here.
AED is an international trade association representing companies involved in the distribution, rental and support of equipment used in construction, mining, energy, forestry, power generation, agriculture and industrial applications.