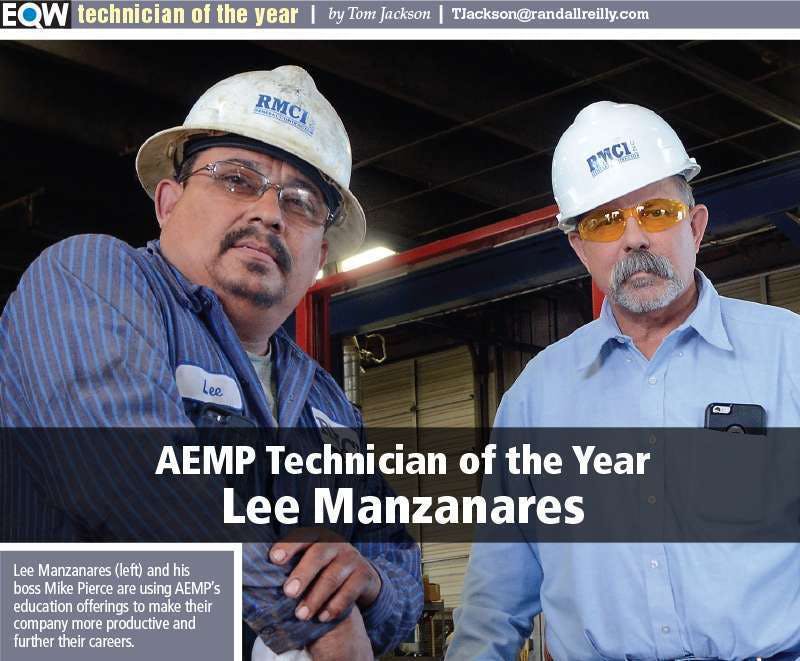 Lee Manzanares, the lead mechanic for RMCI General Contractor in Albuquerque, New Mexico, started on his career path at his father's side. "Dad was a heavy equipment mechanic who worked in the mines. We also had a farm and we were always fixing stuff," Manzanares says. "Dad moved quickly. You learned fast."
Manzanares learned well. In March, he was named the Association of Equipment Management Professionals Private Fleet Technician of the Year.
In high school Manzanares scored a job at a service station part time and got permission to leave school early and get credit hours for the work he did there. After high school, he went to school for a mine, Battle Mountain Gold, in Montana.
Army life
Eventually, Manzanares decided he wanted to see what military life was like. He signed up in 1988 to train as a field artillery systems mechanic. At his first duty station, Berlin, Germany, he and his unit patrolled the Berlin Wall in the days after it fell.
In 1990, at the outset of Desert Storm, Manzanares was assigned to the Howitzer Battery Red Legs, 2nd Armored Calvary Regiment. On the first day of the war his unit crossed the berm from Saudi Arabia into Iraq. When one of the howitzers started leaking oil Manzanares had just 15 minutes to make the repair.
"We didn't have the means to make a proper repair on the steel oil line," says Manzanares. Instead he improvised. He took a rubber line and spliced it into the steel oil line. To keep the rubber from burning he wrapped it in asbestos scavenged off a mitt used to handle hot barrels from the 50-caliber machine gun. "The repair lasted the entire battle," he says.
For their efforts, the unit was awarded three bronze stars for valor on their service ribbons.
After his discharge from the Army, Manzanares went to work for a government contractor, rebuilding components on some of the trucks he'd known in the service. Then he worked for a spell back in the mines and came to RMCI in 2008. There his supervisors recognized his talent and enthusiasm and signed him up for a number of sponsored schools put on by OEMs such as Cat, Atlas Copco and Ingersoll Rand.
Civilian challenges
Manzanares is proud of the work he did serving his country in the Army, but enjoys the life of a mechanic and technician in the civilian world better.
"I liked the military but, you didn't get to get into a lot of deep stuff, like rebuilding an engine," he says. "You did your job and your job only. In the civilian world, you get to do more stuff, and you learn a lot more."
The financial pressure to do things on time and on budget is a challenge Manzanares likes in the civilian sector as well. "In the Army, there is always a backup, but in civilian life if that machine has to be up that night it's going to be up that night. That happens in the Army too, but here you can feel the money side of it."
Manzanares also likes the autonomy he's given in the private sector.
"My bosses trust me enough to make my own decisions about what's going to get fixed and how," he says. "Of course, I include them in the numbers and the money, but I don't have somebody on me all the time. They trust me because I move quick and keep stuff running and get the job done. Compared to the Army, here it's different equipment, different problems; always something new, not the same thing over and over."
In demand
According to Mike Pierce, vice president of equipment at RMCI, when a machine goes down, all the project supervisors ask for Manzanares to come fix it.
"Lee never stops until the problem is resolved, or he knows what is going on," Pierce says. "He is very tenacious. He is good about explaining the problem and the solution to the superintendent, whether it's machine failure or operator error. That is very helpful for everyone involved."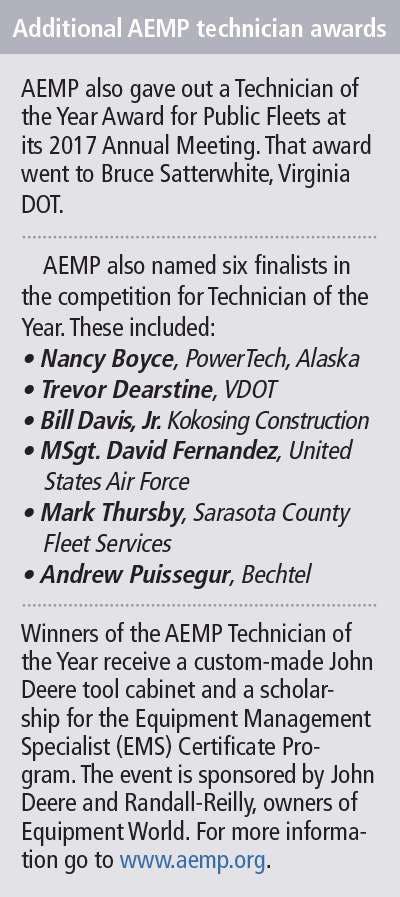 Manzanares also came to RMCI with a flexible and adaptive mindset, which has helped him progress quickly, Pierce says. "The hardest thing moving from one job to the next is learning the direction that company is going to take you," says Pierce. Every company is different – how they are structured, the culture, their policies. Everybody who comes onboard has to learn that."
RMCI's culture is grounded in three attributes, says Pierce: safety, quality and production. Manzanares understood that from the beginning and made that philosophy his own.
"Equipment managers look for years and don't find somebody of Lee's caliber," Pierce says. "This guy is borderline amazing."
Rex Davis, CEO of RMCI agrees. Manzanares, he says, designed tools and processes to reduce repair costs and extend useful live of RMCIs equipment, including implementing program of diagnosis supported by technology and proper oil and fluid analysis. His efforts led to cost savings of thousands of dollars, says Davis.
Family matters
Manzanares and many of the crews spend time away from home, something that requires patience and understanding from his wife Sharon and son Brandon.
"My wife and my son understand what I do, that I'm going to be gone out of town a lot of the time," Manzanares says. "It's a teamwork effort to make our home a good home, even though I work out of town. It makes a big difference when you have that kind of support. You don't have to worry if the bills are being paid, things like that. My son understands that I can't be there all the time, but we make up for it when I am there."
AEMP for continuing education
RMCI has participated in the AEMP for years, and that enthusiasm starts at the top. The company had a previous employee, Jacques Laschet, who was awarded the honor in 2010. Going forward, Manzanares says he plans to study for the association's Certified Equipment Manager test and continue to learn from more experienced hands at AEMPs two annual meetings.
The next generation
Manzanares career was boosted by the mentors who helped him perfect his tradecraft, and now he sees mentoring those younger than him as an important part of the job. His advice for young and aspiring technicians: observe.
"A lot of these young kids come out of tech school book wise," says Manzanares. "But to me there is nothing like learning from an experienced hand. "You take what you learned in school, but keep tight lipped and learn what the old guys can teach you. If you put this together in a way so that you don't come across as a know-it-all, you'll get a lot further. The old guys have heard things and seen things you're never going to see in the classroom. I'm fortunate with the guys here. They listen. And we get good results out of it."