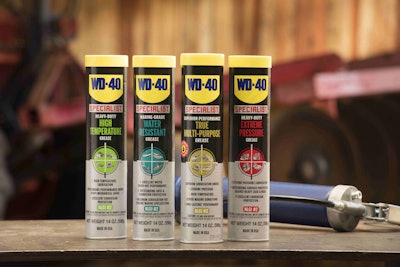 WD-40's new line of specialty greases is aimed at construction's extreme conditions and are designed to protect against rust, even in wet conditions.
The first lubricant in the lineup, Superior Performance True Multi-Purpose Grease is an all-in-one grease formulated with what the company calls "calcium-sulfonate technology." It is made for long-lasting performance under extreme pressure, high temperature and severe marine conditions.
WD-40 has also released three lithium complex-based greases for special conditions. All the products can be used with one another without leading to cross-contamination.
The company's Heavy-Duty High Temperature Grease is geared toward heavy-duty trucks and construction equipment. It protects against heavy mechanical loads and extreme temperatures, the company says.
Next comes Heavy-Duty Extreme Pressure Grease. Also for automotive and off-highway use, it has "exceptional load-carrying ability, anti-wear protection and high dropping point properties," the company says.
The Marine-Grade Water Resistant Grease is the third of the specialty products, designed to fight rust and stay in place in wet conditions. It can be used for such things as trailer wheel bearings and chassis, water pumps, anchor reels and outboard motors.