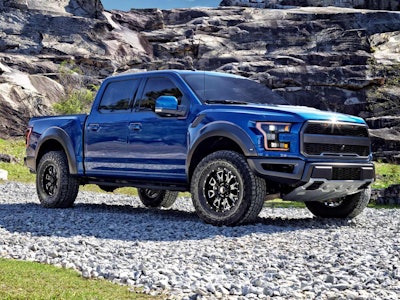 Cooper Tires has introduced two new pickup tires that are part of its new Discoverer AT3 series.
The all-season, all-terrain Discoverer AT3-LT and Discoverer AT3-XLT both feature Durable-Tread Technology for enhanced durability and a best-in-class 60,000-mile warranty. The AT3-LT is designed for medium to heavy-duty pickups, while the AT3-XLT is geared towards lifted trucks.
Cooper reports that both tires stop an average of 10 feet shorter on wet roads when compared to leading LT all-terrain tires.
"We've designed these tires to give you strength that won't quit—and that all starts with Durable-Tread Technology," Cooper Tires states about the AT3-XLT in its press release. "The long wearing rubber compound of the tires equips them for endurance, while their tread pattern spits out rocks and debris on the roughest of roads."
The AT3-LT is designed with hauling in mind.
"The Cooper Discoverer AT3-LT all-terrain, all-season tires support your drive for more," Cooper states. "Designed to give you powerful handling in all-seasons with extreme durability for hauling, they're the tires that give you just what you need to go nearly anywhere."
The third Discoverer AT3 series tire, the AT3-4S, was developed for SUVs and features a best-in-class 65,000-mile warranty.
All three tires should be available by late summer.