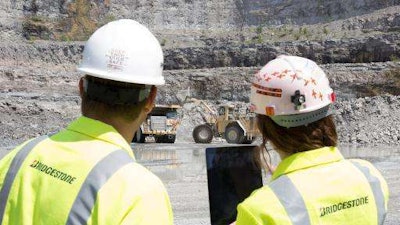 Bridgestone's PressureStat allows remote monitoring of tire pressure and temperature on off-the-road tires with a mobile device or computer.
The company says the system improves tire performance, increases jobsite safety and reduces unplanned downtime. Knowing tire pressure can help ensure vehicle weight is evenly distributed and prevent uneven tire wear.
Bridgestone has offered a tire pressure monitoring system for giant radial tires and has now expanded it to OTR tires in the construction, quarry, underground hard rock and port industries.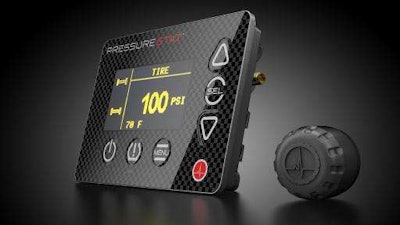 The system comes with valve stem sensors that are installed on the tires. The operator receives onboard alerts of potential issues. Through Bluetooth, real-time tire pressure can be monitored remotely. The system also provides instant inspection reports for the entire fleet on desktop or mobile device, the company says.
Bridgestone's TreadStat software provides instant analysis and forecast reports for tire and rim conditions.