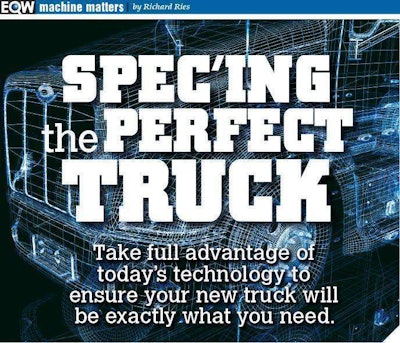 Not long ago spec'ing a vocational truck meant going to a dealer, picking from a limited list of wheelbases and axle ratings, selecting a few options for the cab and then welding, drilling and cutting until all your equipment fit. Those were the Dark Ages of truck building. What we have now is a period of Enlightenment where customers work with dealers and body builders to create trucks that perform exactly as intended with minimal modifications.
Rather than delivering a chassis cab to be used as a blank slate, manufacturers now create the truck equivalent of a site plan with multiple views and often a 3D rendering of how the truck will be built. All components, from hydraulic tanks to air lines to outriggers, are placed on the schematic before any work begins. This greatly improves efficiency for the body builder, reducing build time and increasing customer satisfaction.
To make the most of this system, customers must have a complete and accurate understanding of how and where the truck will be used and then share that understanding with dealers.
Make a list, check it twice
Dave Schmitz, product manager with Caterpillar, says contractors "must not be married to the specs but be open-minded in seeking solutions." They need to know what the application requires, the required gross vehicle weight rating (GVWR), the type of material or equipment to be hauled, operational requirements, fueling stations and regulatory considerations, such as the Bridge Formula. Schmitz says spec'ing starts with the foundation of the truck: the frame and cross-members and the suspension and weighting of the axles.
Customers should also know what image they want to project and keep that in mind when spec'ing trucks. Flash and bling, such as chrome wheels and external air cleaner canisters, are part of this strategy. So is dual exhaust. "Dual exhaust creates an image," says Schmitz, "and even though there's no performance advantage, customers will spec dual exhaust just because it looks tough."
Box bodies are the easiest build, says Charles Cook, marketing manager of vocational products at Peterbilt. Dump bodies are more complicated; mixers and service trucks are more complicated still. Most challenging are new customers and new applications, but "our applications engineering group is adept at designing anything as long as they have good guidance from the customer." He says new technology is constantly reshaping the industry. "Specialty bodies are getting completely new designs."
Despite the services provided by OEM design departments, there are times when it's best to buy off-the-lot, such as when you want to save time. Manufacturers have online resources for body builders that are interactive and updated regularly so even stock chassis cabs can become semi-custom finished trucks. And many of the lot trucks are pre-configured for specific applications. Peterbilt's 365, for example, has a front-set axle (29-inch distance from the front bumper to the center of the steer axle) made specifically for Bridge Formula compliance. Their mixer platform includes a prep package for a lift axle.
Sustainable is good, but is it right?
Sustainable technologies, from hybrids to electric vehicles, are pouring into the marketplace. Proponents are quick to point out their advantages, but are those technologies right for you?
"Sustainable technologies must be balanced against both the duty cycle and the drive cycle," says Bob Johnson, director of fleet relations with the National Truck Equipment Association. He says the drive cycle describes how a truck will be used and includes such factors as average speed, idle time, and number of stops. Duty cycle describes how hard a truck will be used and includes terrain, percent of rated load capacity in an average haul, and ratio of time loaded to unloaded among other factors in creating that description. "Drive cycle and duty cycle are related, but not equivalent."
Johnson cites an electric vehicle as an example. If the vehicle has sufficient battery capacity to make it through a typical shift with a small cushion of excess capacity, that vehicle can be a good choice. But if demand increases and now the vehicle must run for two consecutive work shifts with no recharge time in between, the vehicle cannot complete the second shift. The customer is facing an expensive solution of adding a second electric vehicle or replacing the electric vehicle with one having a more conventional powertrain.
Evaluating sustainable technologies can be challenging, but can also yield big payoffs. Alan Fennimore, vocational marketing manager for Kenworth, says natural gas is one example. Natural gas does not have the high energy density of diesel fuel and can have higher initial cost for the engine and fuel storage. Some state and local air quality control agencies offer grant programs to help offset the additional cost of the alternative fuel engine technology and fueling stations. In addition, natural gas saves an estimated $2 per gallon over diesel.
Natural gas is also a cleaner burning fuel with no need for complex emission reduction technology. Deleting the additional weight associated with emission control systems increases payload.
It's important to work with your dealer and body builder to assess which fuel storage system – compressed natural gas (CNG) or liquefied natural gas (LNG) – will work best for you. "Your decision may be determined by the availability of CNG or LNG fuel in your area," Fennimore says.
Even with traditional internal combustion drives, customers must use up-to-date information in spec'ing their trucks, says Johnson. Recent developments in gasoline engines have closed the gap in power and fuel economy between gas and diesel. "By the time you factor in the higher first cost, higher per-gallon fuel cost, the need for diesel exhaust fluid and the greater engine weight, diesels are losing their advantage, especially Class 3 and 4 and some Class 5 applications."
NTEA has five engineers on staff to help members with spec'ing. They also offer two-day seminars on spec'ing, weight balance and regulatory compliance. Seminars are offered at the customer's place of business.
The sweet spot in powertrains
Some customers under-spec to save money on the front end. Some over-spec thinking they'll get greater longevity from their truck. Smart customers right-spec to get all the truck they need, but no more truck than that. This is especially true when spec'ing powertrains.
"Customers are becoming more conscious about their needs when it comes to powertrain selection in the vocational market," says Peter Schimunek, marketing segment manager at Western Star. "While it might make sense to get the biggest, most powerful truck possible, bigger isn't necessarily the best fit for the job at hand." Aside from upfront cost, there are other items to consider, such as the cost to insure, daily operations and maintenance. "Our advice to any customer in the market for a dump, crane or mixer is to work with a trusted, knowledgeable dealer to 'right size' a truck." With the right engine, transmission and axle combination a customer can avoid spec'ing an over- or under-powered truck to ensure optimal efficiency for budget, weight optimization and truck longevity.
Automatic transmissions are becoming more popular because they reduce driver training time. Automatic transmissions may also provide increased productivity compared to manual transmissions. They also have smooth, effortless shifting in off-highway applications for optimal performance, even when operating in challenging terrain.
With regards to expanding the ratio range with more transmission speeds, it boils down to customer preference and comfort level. "Many drivers, primarily older ones, still prefer 18-speed transmissions," says Schimunek.
Getting extreme
Vocational trucks are often exposed to extreme conditions, which is an important consideration when spec'ing. For example, air filtration is critical for vocational trucks working in extreme environments, says Mary Aufdemberg, director of product marketing for Freightliner.
"We design our air filtration systems to maximize productivity, reduce downtime and minimize maintenance costs by extending maintenance intervals and reducing opportunities for dirt to enter the engine," says Aufdemberg. One important design criteria is to reduce the amount of piping connections in the air filtration system, which reduces the risk of dirt entering the engine unfiltered. The Freightliner design uses a hood plenum system with a single high-capacity air filter under the hood with available plenum pre-cleaners.
Freightliner offers pre-cleaners for all of their vocational SD products. These pre-cleaners help extend the maintenance interval for the air filter. An optional air restriction light in the dash lets drivers know when the filtration system is reaching maximum restriction. Operating costs are reduced if air filters are replaced only when necessary, as indicated by the restriction light. "It is much more efficient to only remove the filter when it is time to replace it, not to inspect it," says Aufdemberg. "Plus every time the intake system is taken apart there is risk of dirt entering the engine and opening the system only as needed reduces this risk." Freightliner also offers serviceable cab filters to keep the dirt and dust out of the cab.
Other Freightliner Severe Duty options are lower radiator rock guards, oil pan guards, one-piece skid plates, heavy duty front bumpers and cab guards and LED headlights with polycarbonate lens. Additionally, the Freightliner 108SD and 114SD trucks offer heated windshields in the wiper park area.