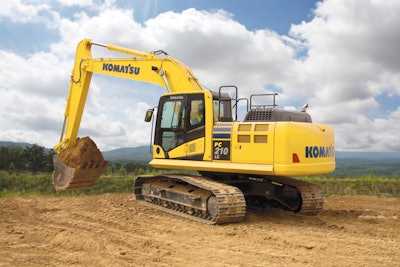 Nabbing some of the highest scores we've seen from a reviewed machine so far, there was a common theme among our experts when discussing how the Komatsu PC210LC-10 impresses: speed and agility.
And with nearly 15,000 hours of combined on this excavator among them, several of our experts says the PC210LC-10 is simply "better all around," than competing machines they have used in the past.
David Rowe, of Mount Airy, North Carolina-based heavy highway contractor Smith Rowe, says his relationship with Komatsu excavators goes back quite a ways.
"In the beginning, when the hydraulic excavators first started catching on, the Komatsu was a better product than the other excavators that were available," Rowe says. "We've tried several different brands over the years but the Komatsu is our favorite because of the advantages we see mechanically as well as in performance.
"It's just better all around."
While the overall scores for the machine don't reveal many negatives, as we detail in the breakdown below, many of our experts did take issue with at least one aspect of the machine, whether in relation to comfort, serviceability or dealer service.
As we've seen with other machines in the past telematics are rated highly, but not without some confusion as to the technology's full feature set.
The same was not true on performance and operator features, as you can see from the scores below. All ratings are given on a scale from 1 to 10 with 10 being the best possible score and 1 being the worst possible score.

PROS
Receiving fairly high marks from all of our experts, serviceability of the PC210LC-10 was particularly lauded by a Florida forestry contractor who says, "This machine was built with the operator in mind. It takes (primary operator) Dale half the time to grease and perform preventative maintenance checks and service on the 210 as opposed to other hoe manufacturers we own."
A few of our reviewers dinged the machine for its ease of radiator clean out while Rowe says the access to scheduled service points could be improved.


PROS
Our experts were in agreement that the PC210LC-10 is a hard package for its competitors to beat, saying the machine is powerful, quick, fuel efficient and maneuverable.
"The responsiveness is what my operators claim the most," says Tim Cederlund of Union, Illinois-based excavation firm Team REIL. "And it has very fast cycle times for a machine with such a small footprint. We've been renting Cat 336s along with Komatsu PC330s. And this machine, for the size and weight, it just seems to do it all faster."
Jared Solsma, of Hospers, Iowa-based excavation contractor Solsma Bros. agrees on the machine's responsiveness saying the hydraulics feel quicker to previous machine's he's operated.
"I don't use it for loading trucks. I do more pipe laying and digging basements," he explained. "I upgraded to this Dash-10 from a Dash-7, and the biggest difference with this machine is it's a little heavier and it's got a little more reach and horsepower. But the hydraulics feel quicker too."
All of our reviewers were impressed with the machine's fuel efficiency, giving the machine a 9.5 in that area. In terms of power, perhaps Rowe summed up the feelings of the panel best.
"The 210 along with its predecessor have been the true workhorses of our fleet," he says. "You can use them for a myriad of tasks both being big enough to get the job done and small enough to be maneuverable. They are very durable and easy to operate."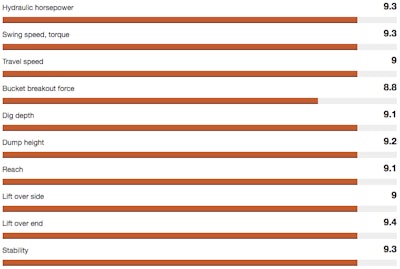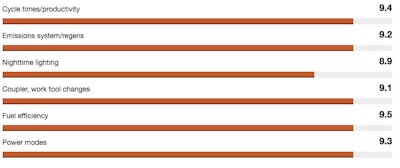 PROS
All of our reviewers see the benefit and possibility Komatsu's Komtrax telematics offer, with a couple voicing particular advantages thanks to the technology they didn't have before. However, most of them agree they need more training from their dealers on how to use the service while others, like Rowe, noted they simply don't have the time for such training.
"I wish I had more time to fully learn the power of Komtrax so I could better integrate it into our evaluations of productivity," Rowe says.
Two of the reviewers opted to not score this category for these reasons.
Charlie Nelson, owner of Charlie Nelson Trucking & Excavating in Benton, Kentucky, raves about Komtrax, saying he could always depend on service alerts and quick assistance from his dealer when trouble arises.
"You just don't worry about the machine. If something happens they alert you," he explains. "As soon as I call they're out in 45 minutes to fix it. That means a whole lot."
Solsma says while he has a lot to learn about Komtrax he has greatly enjoyed just the service's surface features. "How much fuel you're using, at the end of the day you can push a button and it'll tell you how many working hours and idle hours, I really like some of that stuff," he says.


PROS
In terms of an overall score, our reviewers seem to appreciate the PC210LC-10's comfort. But when it comes to being inside a machine all day it's easy to spot areas for improvement and the individual components to this category certainly bear that out.
"I could nitpick that there's not much room for a lunchbox behind the seat," Solsma says. Indeed, the machine's in-cab storage score of 9 was tied for the lowest among all operator features. (Ease of entry and exit along with visibility rear and sides scored a 9 as well.)
For the most part though, our reviewers agree with Nelson who says, "The cab is very comfortable and very quiet."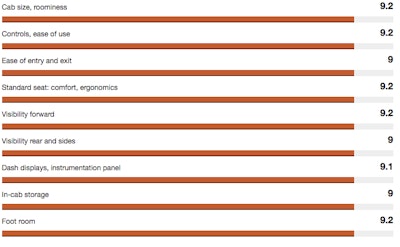 PROS
This category received the highest score from our panel with the Rockland thumbs, straight travel pedal, full front cab guard (OPG Level 2) and bolt on top guard (OPG Level 2) all receiving perfect scores.
Solsma notes his machine is equipped with a hydraulic thumb. "I've got a hydraulic thumb on it and I really like that thumb. It comes in handy a lot," he says."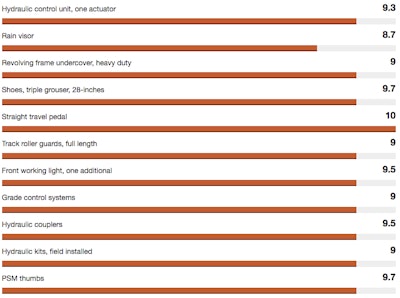 PROS
Matching telematics for the lowest score among all categories, dealer support was primarily dinged by two of our reviewers. A Fort Worth, Texas, excavating contractor gave the machine's warranty a low score of 4, while Solsma ssigned a score of 6 to his dealer's service, support after sale and parts availability.
However, other reviewers had nothing but glowing reviews for their dealers. Rowe says "a lot" of why his company sticks with Komatsu has to do with his dealer, though he notes his local Cat dealer has been calling more frequently as of late while adding "Cat has certainly improved their product as well."
Nelson calls his dealer "excellent," while the Florida forestry contractor says his salesperson was "relentless" and a huge reason why his company gave Komatsu a shot in the first place. "Now, Komatsu is the only new machines we buy," he explains. "And he follows up regularly and even stops by our jobsites to talk with the operators."

Individual reviews
We found our 10 reviewers through Randall-Reilly's Equipment Data Associates division, which tracks financed purchases of construction equipment, and verified each reviewer had a Komatsu PC210LC-10.
In total, our reviewers put more than 14,844 total hours on their machines; hours ranged from 547 to 3,100, with an average of 1,484 hours. All reviewers bought their machines between 2013 and 2015. All reviews reported anonymously, except when we received permission to use the reviewer's name.

PROS
Hours on machine at time of review: 547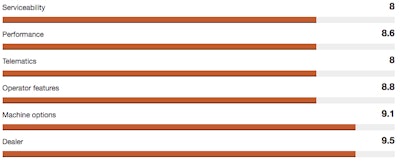 PROS
Hours on machine at time of review: 2,700


PROS
Hours on machine at time of review: 500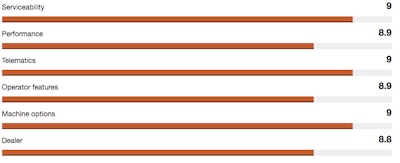 PROS
Hours on machine at time of review: 3,077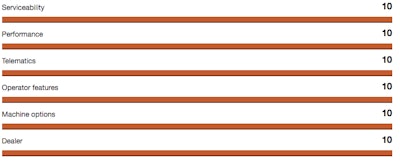 PROS
Hours on machine at time of review: 3,100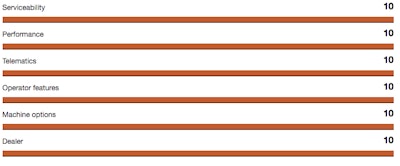 PROS
Hours on machine at time of review: 620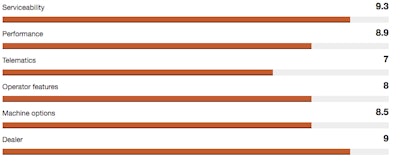 PROS
Hours on machine at time of review: 1,100
PROS
Hours on machine at time of review: 1,300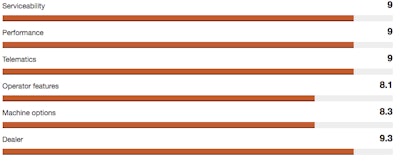 PROS
Hours on machine at time of review: 1,000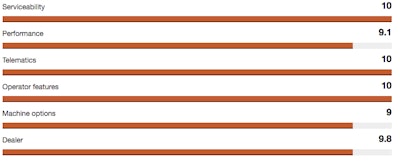 PROS
Hours on machine at time of review: 900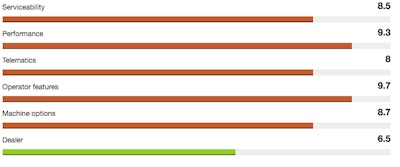 About the Komatsu PC210LC-10
Introduced about three years ago, the Komatsu PC210LC-10 replaced the dash -8 model and features a new travel motor and final drive assemblies for increased drawbar pull and steering and slope climbing performance.
A 158-horsepower engine with a hydraulically actuated variable geometry turbocharger powers the unit. The operating weight is 48,950 pounds to 52,036 pounds and the bucket capacity is 0.66 to 1.57 cubic yards.
What the company calls an "arm-quick" return circuit puts some pep in your cycle times. A joystick pushbutton "Power Max" feature cranks up the breakout force for 8.5 seconds when a knockout punch is needed. Maximum arm crowd force and bucket digging force are up 7 and 7 percent respectively from the dash-8 models.
Six working modes (power, economy, lifting, breaker, attachment and attachment economy) match engine speed and pump flow and pressure for maximum efficiency.
Komatsu claims a 10 percent fuel economy improvement over the dash-8 models, thanks primarily to improvements in the hydraulic system. The hydraulic system is closed center and load sensing with large displacement and high flow output.
A heated, air-suspension seat comes standard. An in-cab monitor offers expanded functionality, including an attachment control screen that lets you name and set hydraulic parameters for up to 10 different attachments. The monitor will also alert the operator when oil and filter replacements are due.
There are two counterweight options: standard (10,406 pounds) for long arms and heavy attachments, and a lighter counterweight (7,937 pounds), which gives you some flexibility for transportation regulations. A swing out cooler gives good access to service points and makes clean out easier.
Komtrax equipment monitoring comes standard and lets you access the machine's telematics data from any internet connected device.