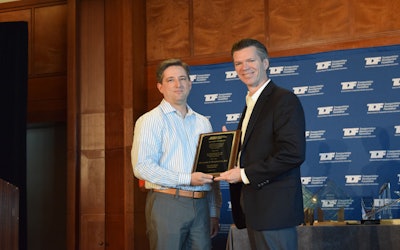 The American Road and Transportation Builders Association gave division awards to five members at the its national convention on Wednesday.
ARTBA announced in a press release that the awards honor members who have made significant contributions to the Contractors, Planning and Design, Materials and Services and Traffic Safety Industry divisions.
The Nello L. Teer, Jr. award went to John Kulka, a consultant for HRI, Inc., in State College, Pennsylvania. The award is given to the contractor who has made "outstanding contributions" to the Contractors Division and the transportation industry.
TransSystems vice president Richard Markwith, of Atlanta, won the Guy Kelcey Award for his contributions to the association's Planning and Design Division.
Another Georgia man took home ARTBA's Materials and Services Division award. TenCate Geosynthetics global group director Wally Moore was honored with the Paul F. Phelan Memorial award.
Two individuals were given the John "Jake" Landen Memorial Highway Safety Award. Joe Toole, a former associate administrator at the Federal Highway Administration's office of safety in Washington, and retired 3M Traffic Safety and Security Division government affairs manager Taylor Bowlden took home the award given to those who have made contributions to highway safety.