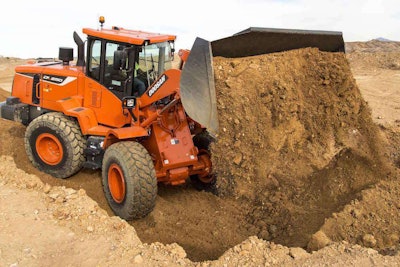 The new Doosan Z-bar DL250-5 wheel loader and the DL250TC-5 tool carrier model both offer upgrades in fuel management, operator comfort and use the standard Doosan Telematics system. The new models replace the Tier 4 Interim "dash-3" models.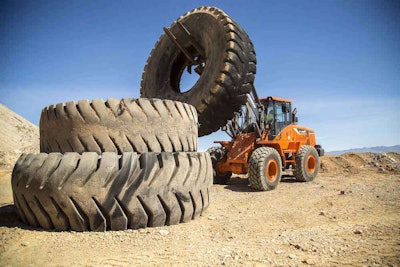 The standard limited-slip differentials assist in the loader's typical material handling tasks, offering more traction when the machines are loading buckets, grading or dumping into trucks. In rough terrain, the limited slip differentials allow the wheel with the most traction to receive the proper torque.
In addition, "an optional hydraulic front differential lock lets you engage the diff locks with a foot pedal so your front wheels lock in and you can drive like a front-wheel drive," says Mike Stark, Doosan wheel loader product specialist.
Operators can set the auto shutdown system to idle anywhere from 3 to 60 minutes before the engine shuts down. The Tier 4 Final emissions package on the loaders does not require a diesel particulate filter, instead using a diesel oxidation catalyst and selective catalyst reduction aftertreatment. The machines use diesel emissions fluid; Doosan recommends topping off the separate DEF tank at each fuel fill.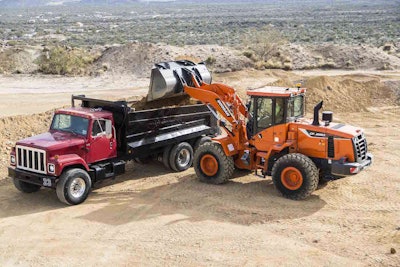 Cab upgrades
"A lot of the Dash-5 upgrades are in the cab, including the smaller steering column, which gives you more foot space," Stark says. In addition to the adjustable steering column, cab upgrades include flush-mount membrane keypads that are simple to clean and make it easier for operators to review and adjust settings.
A fuel consumption gauge tells in real time how much fuel the loader is using. Various fluid pressures can now be viewed on the in-cab dash panel. Outside, two rear LED lights assist nighttime operations.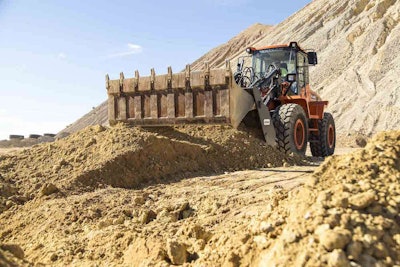 The DL250-5 also has a high-lift configuration option that provides 18 inches more dump height when loading trucks, a feature particularly helpful in quarries when loading sand and gravel and on infrastructure projects.
Service upgrades include additional oil sampling ports. All Doosan wheel loaders have a variable speed reversing fan, handy in dusty environments.
Other options on both models include fingertip three-lever controls, a rearview camera, a hydraulic load isolation system and a heated air suspension seat.
Doosan Telematics is standard on the loaders, allowing you to remotely monitor machine operations such as fuel use, idle time and location; in addition, Doosan dealers have access to machine warnings and alerts, giving them the ability to respond to exact service needs with the correct parts.