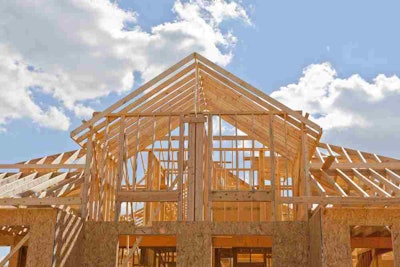 We'll say this for the current home construction recovery: it doesn't stay down for long.
Following a 10-percent drop in June, new home starts in July rose 6 percent to a seasonally-adjusted annual rate of 896,000, according to data from the Commerce Department Friday. It's a good sign, as home starts inch closer to regaining the 1 million mark attained in March.
Home starts are currently at a rate that is 21 percent higher than they were one year ago.
Confidence in the market from homebuilders is up as well. The National Association of Home Builders and Wells Fargo released their monthly builder sentiment index Thursday which rose for a fourth consecutive month to a nearly eight-year high.
Between July and August the index rose from a 56 to a 59—the highest mark since Novemeber 2005. Any mark above 50 indicates that builders view the market as good rather than poor.
As has been the case all year, apartments are the main reason for the increase. Construction on new apartments rose 26 percent in July to 290,000. Single-family home starts fell 2.2 percent to 591,000.
Meanwhile, Americans continue buying more new homes as overall permits for home construction rose 2.7 percent to a seasonally-adjusted annual rate of 943,000. It's the highest mark for permits in the last five years and represents a 12.4-percent increase over the same time last year.