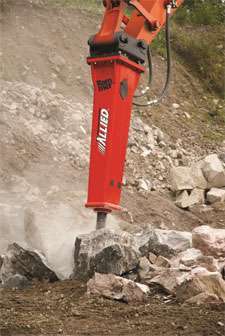 Allied Construction Products, LLC has announced the development of the new Rammer Model 1533 hydraulic impact hammer to their full-product line.
As attachment use increases, Allied continues to lead the industry with product improvements. Allied's newest addition, the Rammer Model 1533 Mid-Range hammer is the next phase in the evolution of the Mid-Range breakers. It provides the very latest in breaker design with the focus on the operator, environment and application.
It features Rammer's VIDAT (vibration dampened tie rod) System and a slim housing design with a replaceable bottom plate made of wear-resistant steel.
Built to last and for ease of operation, the Model 1533's slim housing design
also offers the operator greater visibility and better accessibility in trenching
and demolition operations.
The Model 1533's sound-suppressed housing increases operator comfort and
can be utilized in urban areas where noise restrictions are a factor.
The 2000 Foot Pound Energy Class Model 1533 provides the end-user with exceptional durability and delivers the right amount of power to the material for your demolition application.
Special features of the Model 1533 are:
• Slim Housing―Operator has good visibility and better accessibility in trenching and demolition applications.
• Sound-Suppressed Housing―New housing enhances use in urban areas and provides operator-friendly environment in the cab of the carrier.
• Safety Valve―Protects the hammer from damage due to excessive hydraulic input.
• VIDAT System―Vibration dampened tie rods that extend operating life, reduce operating costs and minimize downtime.
Options
BreakerLube® CML─A carrier-mounted, large capacity automatic lubrication unit that provides lubrication to the demolition tool and bushings.
Ramlube III―An integrated automatic lubrication device mounted inside the hammer housing that delivers lubrication to the demolition tool and bushings.
One or more of over 2,500 customized hydraulic kits from Allied provide components for mounting the Model 1533 on excavators. The Model
1533 requires 21 to 37 gpm at 2,030 to 2,320 psi and it breaks at a rate of 550 to 1,050 blows per minute. Demolition of concrete structures, building foundations, trench rock and oversize rock are many of the applications for the Model 1533 Mid-Range hydraulic hammer.
Allied Construction Products, LLC is a leader in innovative construction product technology. Through more than 200 U.S. and Canadian Distributors, Allied offers a complete line of excavator, loader/backhoe, skid-steer and mini-excavator mounted attachments and stationary breaking and material handling systems.