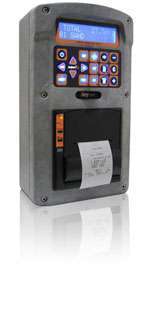 RMT Equipment is introducing North America to the newest edition of the popular helper7 Series 2 loader scale from VEI Payload Management Systems. helper7-2 is the all-in-one loader scale that provides highly accurate in-motion load weighing with a single unit including built-in monitor, data recorder and printer. Recent updates to the helper7-2 software increase the range of entries and types of data that the loader scale records automatically and prints out on its load tickets.
A machine that can grow with your business
Being able to manage 680 customers from one machine is one of the keys to the acceptance of the helper7 from RMT. However, with the helper7-2, not only has the number of product names that can be easily managed from one unit been increased from 40 to 70, but you can now track and produce a single customized load ticket or multiple copies from its built-in thermal printer. Additionally, for increased versatility, this helper7-2 unit can be programmed to track 19 destinations. This unique feature is ideal for aggregate operations that send material to different sites during the day from one loader. The software can record the weight and volume of the total truck load, the number of buckets per truck load, the load destination and machine code and the operator can also easily change the destination and add a vehicle ID to the customer's name.
Instant load data and analysis
The helper7-2 offers easy transfer of its data to business computers by way of the iKey USB memory stick or by transmission through a choice of cellular and RF options. The TrackWeight mobile cellular modem provides real-time data transmission to share loading information with remote computers. The RFlink is an ideal solution for short range data transmission, up to 500 feet.
Like all VEI loader scales, the helper7-2 is supported by VEI's "ipot Lite" payload management software. ipot Lite integrates all data from VEI loader scales into one master database and provides a variety of user-friendly tools to help businesses analyze and report on their production and loading operations. Text-based and graphic reports allow managers to quickly review their loading productivity and deliveries by customer and product, by destination and by machine code.
Easy going
helper7-2 loader scales install quickly and simply with no junction boxes required. The large, clear display provides an intuitive guide for operators, with a bright backlit keypad for operating in low-light conditions.
VEI's bounce compenstion allows operators to load continuously while capturing data automatically, with no need to pause the machine for weighing. Accurate to within 1% of true weight, helper7-2 loader scales provide reliable weighing equivalent to most truck scales. Its tip-off feature lets operators tip any excess of material to match customer orders or mix specifications.
About RMT Equipment
Established by Bob and Marc Lefebvre in 1996, today RMT Equipment is a leading North American specialist in weighing solutions and the TRACK-VISION Camera System for wheel loaders, forklifts, log loaders, excavators, mining trucks, scrapers and conveyor belt scales and metal detectors. RMT is the North American Head Office for the VEI Payload Management Systems (Loader Scales) and the Canadian Head Office for SciTronics belt scales and metal detectors. In 2010, RMT introduced North America to the XW family of wireless crane scales and grapple scales developed by Intermercato AB of Sweden. RMT systems and solutions are sold and serviced by a growing network of equipment dealers throughout the United States and Canada.
RMT Equipment
Toll free: 800-648-8132
https://rmtequip.com/