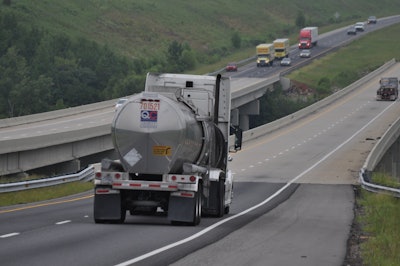 Independent and leased owner-operators are increasingly feeling the pain of a rapidly constricting economy, based on a weekly survey of Overdrive and Commercial Carrier Journal readers.
Two out of three respondents said they're seeing less freight as the coronavirus-related closures affect manufacturing, retail and other segments, up from 54% the week before. Among the 450 who responded during April 1-6, 50 are leased operators. The other 400 operate with their own authority and fewer than 10 trucks, most with one to five trucks. Among small-fleet owners, 18% said they had laid off drivers, about the same as the prior week.
Click here to view our full coverage of the coronavirus' impact on the trucking industry from the leading industry publications of Commercial Carrier Journal, Overdrive, Truckers News and Trucks, Parts, Service.
"We haul heavy equipment and it is always slow in the winter and we pick up by the end of March," wrote one respondent. "That has not happened this year."
Respondents also quantified the declining outlook on freight and rates in a 1-10 rating on whether the week was "the worst week ever," with 10 being the best. The average fell from 4.09 to 3.81 last week.
"What are the owner operators supposed to do with the freight being so low? How are we going to make money in order to survive?" wrote Joyce Tudor, apart from the survey. She drives team with her husband Ken Tudor for their independent Tudor Trucking LLC, based in Pensacola, Florida.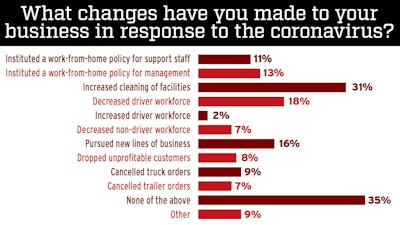 Looking 30 days ahead, 69% of respondents expect freight to decrease further, versus 55% last week.
"As 'stay at home' terms are being extended, we're hearing that lot of retailers are cancelling orders, anticipating longer shutdowns, events cancelled, so we're expecting a freight decrease," wrote one respondent.
Even with the rapid, widespread cutbacks, some operators continue to report strong business. Freight levels had increased for 11% of respondents last week, down from 16% the week before. Optimism for the next 30 days diminished only slightly, from 11% expecting higher freight levels to 9% last week. In both surveys, 2% of respondents said they had added drivers.
Among the leased and independent respondents, 14% work in refrigerated, considered the most stable of all niches during this crisis.