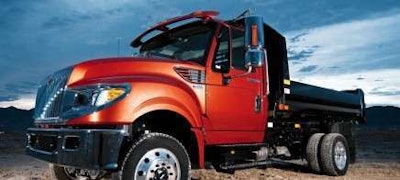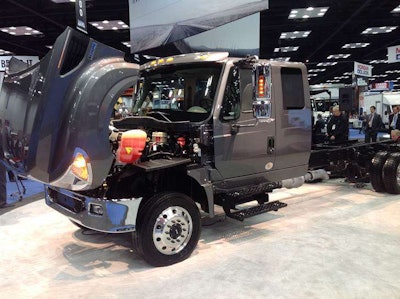 International has finally unveiled it's much anticipated four-wheel-drive TerraStar vocational truck. The big debut was made at the National Truck Equipment Association (NTEA) Work Truck Show this morning.
This new TerraStar model features a 300 horsepower, 6.8 liter, V-8 engine cranking out 660 pound-feet of torque. International has specifically targeted construction, utility, landscaping and other off-highway applications as the niche markets for this truck.
The TerraStar 4×4 features an Allison Optimized 1000 Series automatic transmission, aluminum step package and a Class 8 style tilt-away hood for easy access to the engine.
To insure durability in tough, off-road conditions, International opted to place the truck on 80,000 PSI frame rails fastened in place with huck bolts. The commercial-grade cab is designed to resist cracking under heavy loads and rough terrain.