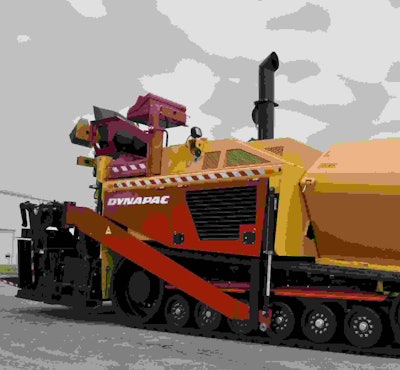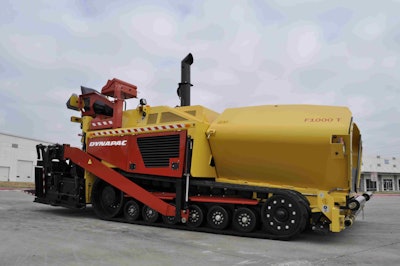 Dynapac has released its next generation series of F1000 pavers, the F1000T and the F1000W, in North America. These pavers meet the interim Tier 4 emission regulations and are available in track or wheeled options.
A Cummins QSB 6.7 liter engine is delivers 220 horsepower at 2000 rpm or 230 horsepower at 1,800 rpm to the F1000 pavers and reduces exhaust emission of particulate matter by 90 percent and mono-nitrogen oxides by 45 percent. The pavers include technology such as direct flow air cleaner, Exhaust Gas Recirculation (EGR), Diesel Oxidation Catalyst (DOC) and Diesel Particulate Filter (DPF) systems.
The Dynapac F1000 pavers feature a high pressure fuel injection system, which reduces fuel consumption up to 5 percent over earlier engines; a cross-flow cooling system with a hydraulically driven, temperature-dependent cooling fan and a 120 degree Fahrenheit capability; an auger-conveyor, feed-control system for continuous flow of material; interactive, dual swing-out operator panels with a functional switch layout and toggle switches; manual override valves, relays and illuminated DIN connectors; and a multi-function display based on calibration.
The pavers also feature a 34 kilowatt, hydraulically driven generator that is designed to deliver a constant 60-hertz frequency. The pavers are designed with group placement of components and individually marked hoses and wires to provide easy identification.
Both paver models have a platform height of 78 inches and a deck height of 63 inches; a transport width of 10 feet and a transport height of 106 inches; and a working width of 26 feet with a minimum working width of 8 feet. Transport length for the F1000T is 21 feet, while the F1000W has a transport length of 21 feet and 4 inches.
For more information about the Dynapac F1000 ser