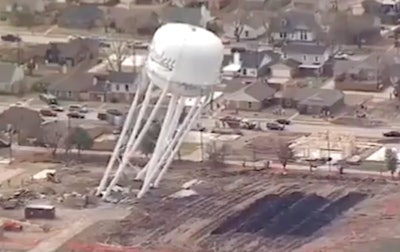 Earlier this week in Rowlett, Texas, workers brought down a 30-year-old water tower that was badly damaged in a 2015 EF3 tornado.
But as ABC News notes in the video below, tweeted following the demolition, as the structure topples over its legs create a pretty lifelike effect. According to a report CBS Dallas-Fort Worth, workers cut part of the support legs bringing the tower down with a stumble into an empty field.
It reminds us of when the tripods are defeated in "The War of the Worlds" and when the Rebels bring down an AT-AT in "The Empire Strikes Back." Check out the video.
Texas water tower appears to take a few steps before collapsing as workers used cables Monday to demolish structure damaged by 2015 tornado. pic.twitter.com/ShpbBNzRFR

— ABC News (@ABC) February 7, 2017