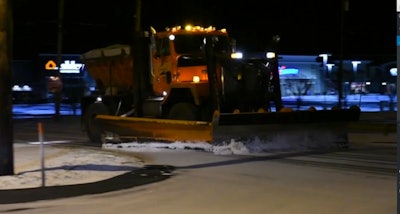 Camillus Highway Department snowplow driver Gary Poppe never knows when the call will come to get out on the roads to clear the snow. He's out in his snowplow so much fighting back the accumulation in the city, located in upstate New York, that he considers his plow his winter home.
"Same with all the other guys," he said of his 32 fellow snowplow operators in Camillus.
The Post-Standard in Syracuse caught up with Poppe one morning earlier this month way before sunrise and rode along as he cleared the roads. There wasn't too much snow to clear, despite what the local weatherman had predicted. But part of the job is never knowing what to expect.
"In the wintertime, you're whole life basically revolves around the weather – what you can and can't plan to do with family and friends. You're on call 24/7," Poppe said. "… I always say it's like you're trapped."
Poppe said he's always checking weather updates to see what he can expect, but most winter days in upstate New York are need some kind of maintenance because getting behind at all means "you're in real trouble."