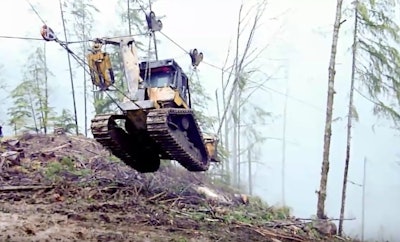 A Caterpillar track skidder is one tough machine. It's built specifically for log skidding and, according to the Cat website, all the "mountainous and soft underfoot" conditions that type of work includes.
But sometimes it's not as simple as driving these machines in and out of the site. Sometimes the grade is simply too steep to traverse safely. That's when you bring in the zipline.
To be sure, this isn't as simple as hoisting this 517 up and pushing it off the mountain. It's a pretty delicate process as the video below illustrates involving an intricate pulley system and another machine to provide the rear hoist. Pretty cool stuff.