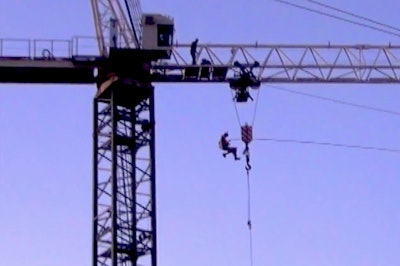 A Wisconsin man has been sentenced to 30 days in jail for breaking into a Sheboygan construction site and then bungee jumping 138 feet from a crane.
According to the Wisconsin Radio Network, 26-year-old Nicholas Propson climbed a fence to enter the jobsite and then scaled the crane before making the bungee jump—all in the name of celebrating Independence Day. Propson filmed the whole thing from several angles and posted the footage to YouTube as you can see below.
In addition to the jail time, Propson has already paid $3,400 in restitution, "because two cranes had to be re-certified to ensure that the incident did not compromise their safety," WRN reports.