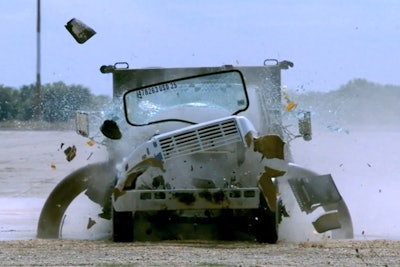 The folks at the Texas A&M Transportation Institute have a fun job. But it's also important work.
According to the Texas Tribune and Houston Chronicle, TTI has a contract with the U.S. State Department to research the effectiveness of "perimeter security devices," like road blocks and steel barriers, that would be installed around embassies and other government buildings. The goal is to prevent a vehicle-based terrorist attack or bombing.
In the amazing test below, the TTI researchers sent an old ice cream truck at 50 miles per hour directly at a barrier buried 18 inches into the ground. The test was meant to see if a small, unimposing barrier could prevent the truck's bed—which in a real attack could hold a bomb or other device—from traveling one meter beyond the barrier.
As you'll see, the test was very successful. The barrier rips through the front end of the truck and folds the cab in half, all while stopping the trailer bed cold. As the Tribune noted, "the ability of the driver to survive such a crash is not a primary concern." However, it's hard to tell if the truck's engine was still on board. Neither of the articles mention the engine being removed but you can't see an engine once the test is complete and the truck doesn't appear to be moving under its own power toward the barrier.