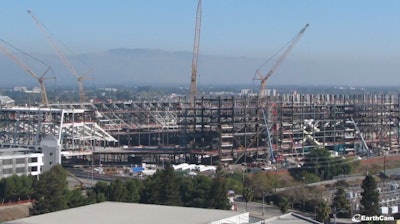 The folks at EarthCam have done it again, capturing yet another huge construction project from start to finish this time with the new home of the NFL's San Francisco 49ers.
Levi's Stadium is the first new NFL stadium to be built in California in 50 years and cost about $1.2 billion. The stadium seats about 68,500 fans and is the first pro football stadium to achieve LEED Gold certification. In fact, 49ers officials are so proud of the stadium's sustainable status that visitors can actually view display inside the stadium that shows how much energy and water the structure is using in real time.
The video below captures the full 29-month construction of the stadium through the opening day kickoff. To capture it, EarthCam used three of its megapixel construction cameras which snapped more than 200,000 images. Those images and more than 1,250 panoramas were stitched together to form the video.